Children Injured in Motor Vehicle Accidents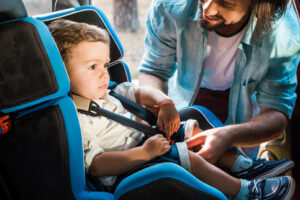 Child Injuries in Morris County Motor Vehicle Accidents
Committed Personal Injury Attorney Serving Clients Across Morris and Sussex County with Offices in Morristown and Newton NJ
According to the Eunice Kennedy Shriver National Institute of Child Health and Human Development, the number one cause of death and injury in children is motor vehicle accidents. For this reason, every state has safety laws designed to safeguard the lives and health of children that far exceed those for adults. In the State of New Jersey, children under 80 pounds or under 8 years old are required to ride in a child seat. It has been proven that using a child safety seat greatly reduces the risk of death and protects children from injuries in the event of a crash. It is the responsibility of parents and caregivers to ensure that children are in a child safety seat whenever they ride in a car.
According to recent statistics published by the Department of Transportation's National Highway Traffic Safety Administration (NHTSA), more than one-third of all children under 13 years old who died in passenger vehicle crashes were not in car seats or not wearing seatbelts.  In fact, on average two children are killed and 338 are injured every day while riding in motor vehicles. Statistics show that the larger the vehicle, the more likely it is that a child who was killed was not wearing a seatbelt or was not in a car seat.
After an accident, the options to get fair compensation are limited and accessible for the ones that know the how-to of the legal process. At the Law Offices of Michael P. Burakoff, we treat every case like it's our only case, and strive to achieve a result that will provide financial security to cover all injured-related expenses for you or children involved. Call us 973-455-1567 and ensure your rights are protected and you have a plan for the future after suffering an accident.
Proper Child Safety in Motor Vehicles Saves Lives
According to estimates by the NHTSA approximately 10,000 lives were saved by child restraints from 1975 through 2011. With this in mind they offer the following tips for keeping children safe on New Jersey roads:
Be sure the child seat is suitable for your child's age and size

Always set a good example by always wearing your seatbelt

Visit SaferCar.gov to determine if your child is in the correct type of seat. You can also register your car seat on the same site to be notified of any recalls

You should have the child seat checked by a Certified Child Passenger Safety Technician approved by the NHTSA

Always carefully read the instructions and labels that come with your child's car seat

You should consult your vehicle owner's manual for information about installing the seat properly in your vehicle

Always use the Lower Anchors and Tethers for Children (LATCH) restraint system or seatbelt to install the car seat and use the top tether for securing forward-facing car seats
Sadly, despite all precautions, it is not possible to always protect their children from harm. Constant threats such as distracted, aggressive and intoxicated drivers are always present on our New Jersey's roadways.
What to do in the event of an accident
There are few things scarier than being in a motor vehicle accident where children are involved.  If it happens here is what you must do:
Stop the car as soon as possible
Turn off the engine
Switch the hazard lights on
Try to remain as calm as possible (children panic when adults panic)
Check for any injuries to yourself or your passengers (for children this may include physically checking them for injuries and not just asking if they are alright)
Call the police and an ambulance immediately if anyone is hurt or if the road is blocked
If there are any injuries or damages it is recommended that you contact an experienced motor vehicle accident and personal injury attorney as soon as possible no matter who is at fault. Protecting yourself and your children does not end with proper safety precautions. It also extends to protecting yourself and your interest after an accident happens.  An experienced attorney can guide you through what comes next.
Contact a Morris and Sussex County Motor Vehicles and Child Safety Attorney
Personal injury attorney Michael Burakoff will be able to be your advisor and answer all of your car accident questions. He will help you to organize your claim and negotiate a fair compensation amount on your family's behalf. In the event of a car accident, contact us online or by phone, 973-455-1567 to schedule an initial consultation.