Prevent "The Fatal Four" Construction Site Accidents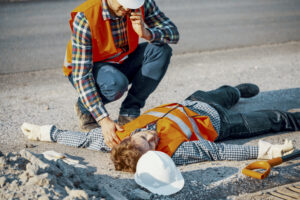 Workplace Accidents Attorneys Morristown NJ
Representing Injured Workers in Morris County, Sussex County, Netcong, Dover, Denville, Parsippany, and across Northern New Jersey
The United States Bureau of Labor Statistics reported that 17 percent of all deaths on business construction worksites were related to falls, according to 2017 statistics. Of the 5,147 worker fatalities in the study, 887 (17 percent) of them were directly related to construction. The Bureau further noted that this statistic is the highest in the 26-year history of accounting falls by the Census of Fatal Occupational Injuries (CFOI).
Fatal falls are only one of the six leading causes of death on construction sites. The Bureau identified the following six types of construction as the most lethal:
transportation accidents,
death from a fall,
workplace violence,
being hit by an object, and
exposure to harmful elements
The study revealed that 47 percent of worker deaths on construction sites relate to transportation and the movement of objects, with truck drivers and tractor-trailer truck drivers constituting the largest number of deaths in occupational injuries with 840, another record-high number since the beginning of reporting of this type in 2003.
Improved Safety Features Can Save Lives Across Sussex County
In a 2011 study, The Bureau of Labor Statistics noted that 410 lives could be saved each year if company efforts were made to improve safety features.
If you are employed in construction, ensure that all equipment is revised and in working order before starting a job. Always choose safety by approaching management with any safety concerns you may have.
"The Fatal Four" Types of Construction Accidents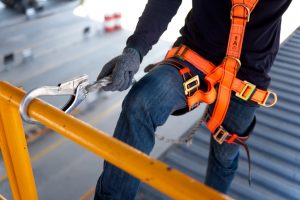 The well-known "Fatal Four" types of accidents on construction sites – falls, electrocutions, being hit by an object, and being crushed – are easily avoidable with intentional prevention procedures.
For example, Health Day, a news site for health awareness, reported on the necessity of inspecting and properly securing scaffolds and ladders to prevent instances of falling, getting struck by objects, and getting crushed.
Building Safety Routines Reduces the Chance of Victims of Workplace Injuries
Building safety routines into the day-to-day can also greatly reduce the risk of falling victim to the fatal four accidents. Such practices as turning off power as step one before engaging a location; always wearing a hard hat, thick rubber gloves, and sturdy boots; and avoiding certain areas of work during inclement weather all support a safe work environment.
Clean Up Routines and Consciousness on Job Sites Prevent Injury
Furthermore, cleanup routines and consciousness are an essential component of construction work-site safety. When routines are in place that leaves a site clean and allows workers to look to the job ahead, accidents are prevented on a large scale.
Organized Work Environments Helps Workers Avoid Injury
In the same way, operating in an organized environment helps worker efficiency, focus, communication, and most of all, safety.
Such routines as workplace setup, cleanup, and organization can be established during staff training, which also provides an opportunity to receive specific support based on workplace injury data. The Occupational Safety and Health Administration, a regulatory body for workplace safety, has a rule for digital reporting that makes this process easy, as companies can align their data with that of nationwide environmental, health, and safety standards. By tracking employees' scores in these areas, companies can provide additional training and support to limit preventable workplace accidents.
Transparency and Open Communication Saves Workers From Serious Injury
Transparency and open communication between employers and employees is key to cultivating a safe work environment, and an orientation toward continued professional development fosters safety in all areas. Talk to your employer today if there's an area in which you think the team would benefit from additional training or information regarding safety in the workplace.
Our Injury and Accident Attorneys provide the counsel you need to protect your rights, Call Today
If you or someone you know has been injured in a workplace accident, it is critical that you get in touch with a skilled and experienced personal injury and worker's compensation attorney. Delays can mean lost wages as well as mounting medical costs.
No matter the nature of your situation, The Law Offices of Michael P. Burakoff is prepared to help you and will provide the representation you deserve. Being involved in a workplace accident can leave you unable to go back to work, or even your daily routine, resulting in significant emotional distress.
If unfortunately, you or a loved one has been injured in a workplace because of the negligence of another person or business, you don't have to face your situation alone. Contact our firm by calling 973-455-1567 or accessing our website for the attention and assistance you need.