Steps You Should Take Following a NJ Car Accident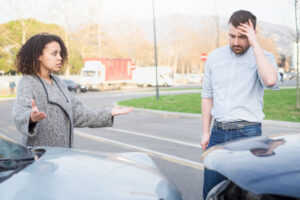 What do I do after a Morris or Sussex County Car Accident?
Personal Injury and Auto Accident Attorneys Serving North Jersey Clients with Offices in Morristown and Newton NJ
Car accidents are all too common nowadays with the increase in people owning their own car. As a result, New Jersey roadways now average over 50,000 car crashes per year. Therefore, whether involved in a multi-vehicle accident, bus accident, or any type of motor vehicle accident it is important to know what critical steps you should take. Above all, your ownhealth in these situations should be considered as the most important factor when considering what to do next.
For some people, a car accident can be a very disturbing event where it can be difficult to know what to do in that specific moment, you may block important facts such as the rights you have and eventually how to reach a settlement if in fact you or someone involved has suffered an injury. Those moments are crucial and you need the legal advice of an experienced injury attorney. Call the Law Offices of Michael P. Burakoff at 973-455-1567 and we will walk you through the complicated legal process and provide the counsel you need to make educated decisions for you and your family.
Steps to follow if you are part of a Car Accident
Important steps to follow;
As mentioned previously you should first concentrate on your own health. If this means a trip to the hospital, then it is important that you do so

Take note of any witnesses so you can check any information at a later date that may be beneficial to the police

If you do not need medical treatment, stay where you are until a police officer tells you that you can go. This is particularly significant if anybody was injured at the time of the accident

If you leave your car before first, check if any other parties are injured

Evaluate any visible damage to the vehicles and make sure you take photos of any damage
When talking to the police after an accident, they will ask you to identify yourself and provide a form of identification. This could be your driving license or any other documents that you might have on your person. At this time you should also provide your insurance details for the vehicle along with the number plate.
What are your rights when talking to a Police Officer?
If the police officer is questioning you about an action that could result in criminal charges then you have the right to remain silent and ask for an attorney. Such charges could include driving under the influence or possession of illegal drugs. However, It important to be patient and cooperate with the police officer in order to prevent the situation worsening.
If the police officer thinks that you violated New Jersey's traffic laws, then they might issue you a ticket. Once the traffic citation is given, you must sign it and accept it. This, however, is not a formal acceptance of guilt, but a simple agreement that you will attend a court hearing regarding the citation. When attending the court date you may plead not guilty and request a trial. You can also try to negotiate some sort of deal with the prosecutor that may include attending a driver awareness course or paying a fine. Following this, the citation can then be waived and in some cases, taken off your driving record.
How to Report a Car Accident in New Jersey
Following the event of a car accident in New Jersey, you usually have 10 days to file a written accident report. If the crash resulted in death or injury, and/or damage to property (more than $500) you need to file a report to the local authorities. If there was no police officer at the scene then you must report to the nearest office of the county police. Alternatively, you can report to the New Jersey State Police via telephone.
If the driver involved is not able to file a written report and there was another passenger in the vehicle at the time of the accident, then that passenger should do so on behalf of the driver. The legal owner of the vehicle involved in the accident can also file the written report on behalf of the driver.
In order to file a written car crash report with the New Jersey MVC, you, your insurance provider, the vehicle owner or legal representative must draft the written report and submit it as a letter to the MVC. In the report, you need to provide as much information as possible including at least:
The conditions then existing at the accident,
The parties and vehicles involved in the accident and their insurance details
The cause(s) of the accident
However, it is important to note exceptions to filing a report. For example, if a police officer has already submitted a written report, then one does not need to be sent to the local law enforcement authorities or the MVC. Make sure you check that this has been sent before deciding not to file a written report.
Failing to File a Report after a NJ Auto Accident
Failing to report the accident may result in you being charged in accordance with the New Jersey Traffic Law 39:4-130. Under this section, you could be fined anywhere from $30 to $100, in addition to the suspension or loss of your driving license. Even if you immediately report the accident via telephone, you may be still found guilty of failing to report an accident in New Jersey if you do not provide the written report. However, if you did not flee the scene of the accident, it may be possible to keep your license from suspension if you are represented by a committed and knowledgeable attorney.
Morristown, Newton or West New York Car Accident Attorneys
If you were injured in an auto accident, contact the Law Offices of Michael P. Burakoff. We can answer any questions and provide the counsel required to protect your rights. Contact us today at either of our convenient locations in Morristown and Newton, New Jersey. Call us at 973-455-1567 for a free consultation.