Insurance Company Tactics When it comes to Motor Vehicle Accidents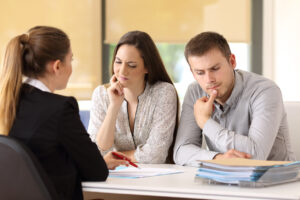 Injury Lawyers Help Engage With Insurance Companies in Auto Accidents from Morristown to Newton NJ
The State of New Jersey is a no-fault auto accident state, meaning that drivers have insurance to cover their own injuries and damage in the event of a motor vehicle accident rather than insurance being required to pay the other party. However, this does not mean that you cannot sue the insurance company of a negligent driver who causes personal injuries or property damage.
It is important to remember that insurance companies are for profit businesses and, although it is a big part of what they do and the product they provide, any money that they pay out goes against their bottom line. For this reason, some insurance companies have become very adept at getting people to accept a smaller payment than they deserve.
The Law Offices of Michael P. Burakoff has extensive experience dealing with insurance companies and recovering full and fair compensation for his clients who have suffered personal injuries in all types of motor vehicle accidents due to third-party negligence in towns across Morris County and Sussex County. Call either our Morristown office or our Newton office today at 973-455-1567 to discuss your individual needs, concerns and situation.
Insurance Company Tactics Sussex County NJ Lawyers
There are several common tactics employed by insurance companies across New Jersey in order to pay as little as possible to victims injured in  car accidents, motorcycle accidents and truck accidents.  On their surface and without full knowledge these offers may seem fair. However, in many cases the amount paid can be far below your actual needs especially in cases of catastrophic injuries that can cause permanent disability such as traumatic brain injury and spinal cord injury among others.
These tactics often include:
The offering of an upfront lump sum payment.  Because litigation sometimes takes months and even years, receiving funds immediately may seem to be the solution to any money problems you may currently have. The problem is that the amount you receive may be inadequate to meet your long-term needs. In many instances further injuries may become apparent later and accepting a lump sum settlement upfront may make it difficult, if not impossible, to gain the full and fair compensation you may need to make your life whole again.

Convincing you to accept some blame. Although this may happen in a seemingly casual conversation with an adjuster, the problem is that anything you say can be used by the insurance company against you and your rightful claim. It is recommended that you keep from discussing fault altogether.

The settling medical claims prematurely. Generally, property damage and medical liabilities in accidents are handled separately. The insurance company may offer to pay both together in an immediate payment. The problem is that your health may deteriorate later and you may need further treatment. Grouping both property and medical expenses together may make sense for the insurance company but will seldom be to your advantage.
Why Morris County Injury Lawyers Are Important to Help You Through the Claims Process
Though a motor vehicle accident, for many of us, is a rare event, but it is something that insurance companies deal with on a daily basis. They often know the stress you may be under physically, emotionally and financially can make you vulnerable. For this reason, you will need someone who can match their experience and has knowledge of the law to be your adviser and representative when dealing with the negotiation and litigation related to your case.  It is critical to have someone who knows what you deserve and will fight to make sure you get it.
Though large insurance companies may seem intimidating it is important to remember that you do not have to face them alone.
Contact A Denville Motor Vehicle Accident Attorney Today
Attorney Michael P. Burakoff has decades of experience recovering full and fair compensation for our clients injured in motor vehicle accidents across New Jersey, Morris County, and Sussex County, including communities such as East Hanover, Morristown, Parsippany, Denville, Dover, Netcong, Hopatcong, and Newton.
If you or someone you care about has been injured in a motor vehicle accident, please speak with Michael Burakoff and our legal team today in a free and confidential consultation regarding your options for making a financial recovery that is fair and just.  Contact us online, or through either our Newton office or our Morristown office at 973-455-1567.