Morristown Distracted Driving Accident Attorney
Serving Clients Injured in Auto Accidents Across New Jersey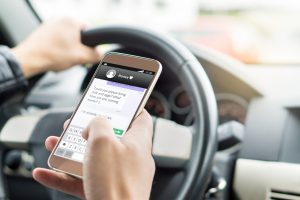 Even as instances of motor vehicle accidents caused by drunk driving are at a steady decline, injuries and wrongful death due to distracted driving are on the rise. While the obvious culprit is our smartphones, the larger picture is that many Americans have the attitude that they must be reachable at all times of the day. This concept of constant connection leads individuals who otherwise know that distracted driving is incredibly dangerous to still check that phone notification. If you or a loved one has been the victim in a car accident, motorcycle accident, truck accident, or any other motor vehicle accident caused by distracted driving, you may be eligible for financial compensation through a personal injury claim.
At The Law Offices of Michael P. Burakoff, our firm offers family-oriented legal service for clients across Morris County and Sussex County towns including Dover, Hopatcong, Morristown, Newton, Branchville, and Frankford. We understand that an injurious accident can be a highly traumatic and life-altering experience, and we strive to keep clients and their families comfortable and informed throughout the legal process. If you or a loved one has been injured in an accident, lean on our expensive experience to protect your legal rights and seek to recover the damages to which you and your family are entitled.
For a free and confidential consultation with a member of our qualified legal staff regarding your accident caused by a distracted driver, please call our Morristown distracted driving accident attorney today.
Rockaway Motor Vehicle Accident Lawyer Defines Distracted Driving in NJ
The State of New Jersey Department of Law & Public Safety has cracked down on distracted driving in recent years in a response to alarming accident statistics. In fact, our state is widely considered one of the most strict when it comes to distracted driving laws and their related penalties. Getting caught texting and driving can lead to fines of $400-$800 with a potential 90-day license suspension. In New Jersey, unlawful distracted driving might include any of the following:
Texting while driving. No drivers may use their cell phones while driving to send or receive text-based messages, browse the internet, or use social media
Use of a hand-held device to make a call. Only hands-free devices are allowed in NJ
Any cell phone use for Novice drivers (under the age of 21 with a provisional license) or public transit drivers
Reading or writing
Smoking, eating or drinking
Using heads up displays, NAV monitors, etc.
Anything which takes the full attention of the driver away from the road
Dangers of Texting While Driving in Morris and Sussex Counties
Texting while driving is rapidly becoming a larger danger to Morris and Sussex County drivers than intoxicated drivers. According to multiple studies, it takes about five (5) seconds to read an average text message. To understand the dangers of texting and driving, imagine traveling on I-287 and simply closing your eyes for five seconds. Traveling at 55 m.p.h. the distance your vehicle would cover in that time is well over the length of a football field. Doesn't seem safe, does it?
This is precisely what happens when drivers take a moment to glance at a text instead of keeping their eyes on the road. The National Highway Traffic Safety Administration estimated that distracted driving killed 3,477 Americans in 2015 alone. Thankfully, the dangers of texting while driving has led to tens of millions of people taking the pledge to not text and drive through organizations such as It Can Wait.
Newton Distracted Driving Accident Attorney Finds Fault
Driving while distracted is considered inherently negligent pursuant to New Jersey regulations. In other words, if our Newton attorney is able to prove that the other driver or drivers involved in your accident were distracted at the moment leading to you injurious crash, you may have a strong personal injury claim. Not all forms of distraction are considered equal, particularly when considering comparative negligence laws. As the fault is determined on a case by case basis, a driver who had eyes down browsing social media on his or her phone may be found to be more at fault than an individual who was adjusting their radio.
So what is comparative negligence in New Jersey? Essentially, the fault is assigned on a sliding scale with each partially at fault party being designated a percentage of liability. This allows individuals who were marginally responsible for an accident to still recover financial compensation.
Let's say you were injured by a distracted driver while both vehicles involved were speeding on the Christopher Columbus Highway. Both you and the other driver would be found partially at fault, with the other driver receiving the greater percentage, perhaps 80 percent against 20 percent. In this scenario, you would still be eligible to compensation through a personal injury claim despite being partially responsible for the accident.
Contact a Distracted Driving Injury Attorney with Offices in Sussex and Morris County Today
Personal injury attorney Michael Burakoff has been practicing law since 1976 in local New Jersey communities including Morristown, Netcong, Roxbury, Newton, Hopatcong, Rockaway, Parsippany, and all of Sussex and Morris Counties. Over the past four-plus decades, Attorney Burakoff has cultivated a stellar reputation through client referrals and case results which speak for themselves. Our firm believes that seeking financial compensation to secure your financial future is only part of the puzzle. We take pride in offering dynamic and personalized legal counsel to fit the unique needs of all our personal injury clients.
To speak with Attorney Burakoff or a member of our qualified legal team today in a free and confidential consultation regarding your recent motor vehicle accident caused by a distracted driver, please contact us online or through our Newtown or Morristown offices by dialing 973-455-1567.