Morristown Workers' Compensation Attorney
Serving Clients Injured on the Job in New Jersey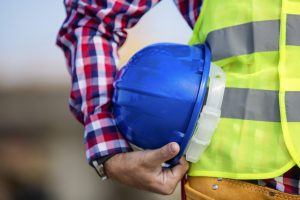 Workers' compensation is a form of insurance which is required for most employers in New Jersey. This protects both workers and their employers in the case of a workplace injury. Injuries experienced during the line of work can lead to medical bills, rehabilitation, and may even require the injured party to miss work for an extended period of time. Workers' comp is meant to help alleviate these financial stresses by providing financial compensation.
At The Law Offices of Michael P. Burakoff, our workers' compensation team has extensive experience helping workers injured on the job secure full and fair compensation for their workplace injuries. We understand that being injured and out of work can put a tremendous strain on the financial and personal lives of employees. For that and many other reasons, we strive to quickly and fairly resolve workers' compensation claims for our clients from Morris County and Sussex County towns including East Hanover, Florham Park, Denville, Mt. Olive, Rockaway, Roxbury, Netcong, Morristown, Newton, and across Northern New Jersey.
To learn more about your potential for a workers' comp claim, please call our Morristown workers' compensation attorney today for a free and confidential consultation.
Netcong Workers' Compensation Lawyer
The New Jersey Workers' Compensation Act, revised as of 2013, states that workers' compensation is a no-fault form of insurance. What this means for employers and employees is that coverage will come into effect regardless of what individual or entity was at "fault" for the injurious accident. This is in contrast to other types of claims such as personal injury claims which require proving that one party acted negligently to recover compensation.
Through a successful workers' compensation claim, our Netcong workers' comp lawyer may be able to recover damages for expenses including medical bills, rehabilitation bills, wage replacement for missed work, death benefits, and considerations for long term or permanent disability.
It is important to note that since workers' compensation is a no-fault form of insurance, it does not entitle employees to seek additional, non-economic damages for their injuries. Such non-economic damages can include compensation for physical pain, mental anguish, loss of consortium, loss of life's pleasures, and more. There are a few exceptions where individuals hurt on the job may be entitled to compensation through both workers' compensation and personal injury claims.
Who Can File for Workers' Compensation in New Jersey?
In order for our Morris County workers' compensation lawyer to assist with a successful workers' compensation claim, all of the following must be true:
You were legally considered an employee at the time of the accident. The legal definition of employee is more complex than one might think, and our legal team will guide you through the requirements during your legal proceedings
Your injury occurred on the job, or as the result of participating in work-related activities. Again, employers and insurance providers may argue this point if you were not directly involved in workplace activities, but there is some leniency
Your employer must be legally required to be covered by workers' compensation insurance. It is a simpler process if they are in fact covered, but failure to obtain workers' comp insurance when it is legally required may still entitle victims of workplace accidents to compensation
East Hanover Workers' Comp Lawyer Protects Clients
While there are inherent dangers of many occupations, there can be little doubt that certain lines of work carry a higher risk. Our East Hanover workers' comp lawyer protects clients from all industries, including:
Police officers
Construction workers
Firefighters
Miners
Utility workers
Health care workers
Roofers
More
We have experience handling job site injury and wrongful death claims such as:
Construction site accidents
Commercial truck accidents
Defective manufacturing equipment
Toxic torts, including chemical exposure
Forklift accidents
Crane accidents
Falls from scaffolding or ladders
Repetitive stress injuries
Back injuries
Traumatic brain injury
Hearing loss
Parsipanny Workers' Rights Attorney Discusses Hesitation to File Workers' Comp
Our Parsipanny workers' rights attorney often hears that injured employees do not want to ruin their current workplace environment by filing a workers' compensation claim. While this is certainly an understandable concern, it is unlawful for employers to treat employees any differently during or after they have filed a workers' compensation claim. In other words, you may not be fired, demoted, passed over for promotion, or any other discriminatory act based on filing a workers' comp claim.
This falls under the umbrella of workplace discrimination. Specifically, this type of behavior would be known as "retaliation discrimination", and is illegal as per federal and state regulations. Employers carry workers' compensation insurance to protect themselves from the financial strains of a workplace injury. Employees should feel free to use the resources to which they are legally entitled without hesitation.
Contact a Workers' Compensation Lawyer with Offices in Sussex and Morris County Today
Workers' Compensation attorney Michael P. Burakoff takes pride in protecting the legal rights of clients injured on the job across Morris County, Sussex County, Chatham, Andover, Florham Park, Dover, Hopatcong, Morristown, Netcong, and all of Northern New Jersey. Our smaller firm size allows us to offer personalized and highly effective legal service for fair and reasonable rates. If you are looking for a law firm who will take the time to address the individual needs of you and your family throughout the workers' compensation process, look no further.
For a free and confidential consultation regarding your accident, your injuries, and your potential for financial compensation through a workers compensation claim, please contact us online or give us a call at our Morristown or Newton offices by dialing 973-455-1567 today.