Morristown Insurance Claims Attorney
Serving Car Accident Insurance Claims Clients in New Jersey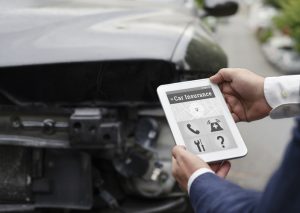 There is no substitute for talking to a knowledgeable and plain-spoken personal injury lawyer about your legal rights and the insurance claims process after a car accident. In our opinion at The Law Offices of Michael P. Burakoff, P.A., car accident victims should attempt to handle their own insurance claims only in rare circumstances. In most cases, the reasonable attorneys' fees are a small price to pay for access to a dedicated lawyer who knows the system and will pursue all possible avenues of financial compensation.
Contact our Morristown insurance claims attorney to schedule a free and informational consultation at one of our four New Jersey offices: Morristown, West New York, and Newton.
When Both Drivers Share Responsibility for the Accident: New Jersey uses a "comparative negligence" system to determine compensation amounts in accidents where drivers share responsibility. For example, if your financial losses are $100,000 and a jury determines that you were 30 percent at fault, then you will recover $70,000. If, however, you are 50 percent or more responsible for the car accident, then you may not be able to recover compensation.
Understand the Basics of Making Insurance Claims After a Car Accident
In more than 40 years working as an advocate for New Jersey injury victims, Morristown attorney Michael P. Burakoff has learned that car accident survivors and their families find it reassuring and anxiety-reducing to have basic information about the insurance claims process. Although your attorney will handle the details, you, as the client, deserve to understand the process and who is responsible for which kinds of economic losses.
Medical expenses: Your own Personal Injury Protection policy and health care insurance will cover medical costs associated with the accident in almost all cases.
Lost wages: Your own auto insurance will provide a small amount of compensation for lost wages due to time off work after a car accident. These benefits are known as "income continuation benefits." Any claim for additional lost wages will be made against the other driver's insurance company.
Permanent disability: If a serious car accident causes life-changing injuries and permanent disability, then the victim may seek compensation for pain and suffering, disability, loss of ability to earn an income, loss of ability to enjoy life, and other economic and noneconomic losses.
If the at-fault driver was uninsured, then your own uninsured/underinsured motorist coverage will come into play.
Communication With Insurance Companies After a Car Accident
You should notify your own auto insurance company about the accident as soon as possible to protect your rights to collect benefits. You do not have to discuss the details of the accident with your own insurance company before you talk to a lawyer. You should not talk to a representative of any other insurance company before you talk to an independent attorney. You should not sign any paperwork, releases or settlement agreements before you consult a lawyer.
At the Law Offices of Michael P. Burakoff, our Morristown insurance claim attorneys take the time to analyze your claim, go over your legal options and fight to get the rights on your behalf and litigate against the insurance companies. We consider that an agreement between the involved parties is not an option unless the insurance company offers an amount that justly compensates our injured client. Call 973-455-1567 one of our offices or visit our website to access our online form to schedule an appointment for a complimentary initial consultation.