Bicycle Safety Tips Everyone Should Know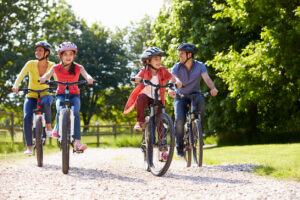 Morristown Injury Lawyers Share Bicycle Safety Tips
The spring and summer months are fast approaching. This means that many will be enjoying the freedom and independence that riding a bicycle can give you, especially around town and down by Morristown Square. However, before you or your children hit the roads of New Jersey it is important to remember that bicycle accidents do happen and there are cyclist who suffer avoidable catastrophic injuries every year. In order to keep you and your loved ones safe, there are some important cycling tips you should know and remember.
The Law Offices of Michael P. Burakoff, want you and your family to enjoy safe cycling on New Jersey's roads, however, if you or someone you know has been injured while cycling due to someone else's negligence we are here to help. We have extensive experience recovering full and fair compensation for our clients of all ages who have suffered personal injuries while cycling due to third-party negligence in towns across Morris County and Sussex County. Call either our Morristown office or our Newton office today at 973-455-1567 to discuss your individual needs, concerns and situation.
Tips for Safe Cycling On Morris and Sussex County Roads
Cycling is a fun and usually safe activity enjoyed by both children and adults. In order to keep it a safe activity, here are some simple tips recommended by the National Highway Traffic Safety Administration (NHTSA).
Inspect your Bike- Before riding any bicycle it is smart to make sure it is ready to ride. Inspect your bike to make sure all parts are working properly and are secure.  Also, it is important to inflate tires properly and check that your brakes work.

Adjust Your Bicycle to Fit- It is recommended that there should be 1 to 2 inches between you and the top tube (bar) if using a road bike and 3 to 4 inches if a using a mountain bicycle. Having a level seat is also recommended and the seat height should be adjusted to allow a slight bend at the knee when the leg is fully extended. In addition, the handlebar height should be placed at the same level as the seat.

Use all proper safety equipment- It is the law in New Jersey that all cyclist must wear a properly fitted bicycle helmet. Protecting your brain can save you from serious traumatic brain injury as well as save your life.
Once on the road, there are several things you must keep in mind.
The first line of road safety is being seen. Whether in the day, at dawn or dusk, in foul weather, or at night, it is important to be seen by others. Wearing neon, fluorescent, or other bright colors when riding day or night can help you to be more visible to a motorist as well as other cyclists. Furthermore, wearing something that reflects light, such as reflective tape or markings, or flashing lights can further increase your visibility to others.
Control of your bicycle is also an important factor in road safety. It is recommended to always ride with at least one hand on the handlebars. Any books or other items you may have in your possession should be safely stowed in a secure backpack or pouch that does not interfere with free movement.
Being acutely aware of your surroundings can help you avoid many accidents. Not only cars and other cyclist but watch for and avoid road hazards such as potholes, broken glass, gravel, puddles, leaves, and dogs. If riding with a friend or in a group, yell out and point to the hazard to alert other riders. Watch for left- or right-turning traffic and always be aware of parked cars. An unexpectedly opened door is an ever-present danger.
When riding it is important to be predictable. This means riding in a straight line and using hand signals to let drivers know your intentions. Furthermore, when turning left or right, you should always look behind you for a break in traffic, then signal before making the turn.
Obey the New Jersey Rules of the Road when Riding Your Bike
It is important to remember that bicycles are considered vehicles and cyclists have the same rights and the responsibilities to follow the rules of the road as motorists.
When riding you must always:
Go in the direction of traffic.
Follow all traffic laws, signs, signals and lane markings.
Yield to traffic when appropriate.
It is important to remember that children under 10 are not usually knowledgeable of traffic laws and are thus much safer riding at safe speed on the sidewalk.
Contact A Newton Personal Injury Attorney Today
Attorney Michael P. Burakoff knows the damage that third-party negligence can cause cyclist and their families if they are involved in an accident that results in damages or injuries. Our law office has decades of experience recovering full and fair compensation for our clients injured while cycling across New Jersey, Morris County, and Sussex County, including communities such as East Hanover, Morristown, Parsippany, Denville, Dover, Netcong, Hopatcong, and Newton.
If you or someone you know has been injured while cycling, please speak with Michael Burakoff and our legal team today in a free and confidential consultation regarding your options for making a successful financial recovery.  Contact us online, or through either our Newton office or our Morristown office at 973-455-1567.