What Qualifies an Injury Lawsuit for a Large Punitive Award?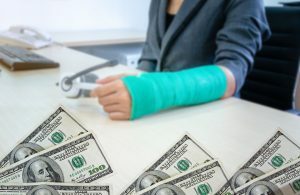 Punitive Award Attorney Morris and Sussex County NJ
Personal Injury Attorney Representing Clients across Denville, Newton, Parsippany, Dover, Rockaway, Hopatcong, Mt. Olive, Netcong, Morris County, and Sussex County
In any personal injury case in New Jersey or across the United States punitive damages and whether should be awarded is always hotly debated. Cases with high punitive awards are often well-publicized, and people who have seriously injured often want to know if their claims qualify for a significant punitive award. Understanding the situations and criteria that lead to high punitive awards is critical to understanding if your personal injury case qualifies.
At The Law Offices of Michael P. Burakoff our team of legal professionals will work hard side by side with you to provide you with the knowledge you need to successfully face your case. We understand New Jersey state regulations regarding punitive damages award-able in personal injury and medical malpractice lawsuits. For a free consultation call at 973-455-1567. or contact us online, to discuss your case in detail and review your options as it relates to a punitive damages recovery.
Necessary Criteria for Large Punitive Awards
In truth, strict legal requirements make it difficult for most plaintiffs to receive such awards. For a court to award a high punitive award a case must meet the following three primary criteria:
Receiving a significant punitive award is intentionally made to be an uphill battle by the courts, and the burden of proof usually lies with the victim to prove that such an award is warranted. An attorney with experience with receiving large punitive awards for their clients is a must if you seek to pursue this type of personal injury claim. It is highly recommended to contact an attorney as soon as possible after an accident occurs as evidence is more likely to be retrievable, and the likelihood of winning a substantial award is greater.
Examples and Rationale for Large Punitive Awards
Occasionally, juries in a personal injury case award a plaintiff punitive damages that represent more than the costs of the plaintiff's injuries for the purpose of punishing a defendant and sending a message to others in the industry. Here are some examples:
In this workplace accident case, an accident left an employee quadriplegic after he was crushed by the forklift he was operating. The court ultimately approved a $33.9 million settlement as a warning to other employers to improve workplace safety.
An Irvington high-school student was left paralyzed after a beating at school won a $16.3 million verdict from an Essex County jury after the family was able to prove that the school district was negligent. This was done to drive other school districts to improve student safety.
In this Passaic County personal injury case a disabled boy who was struck by a baseball that had been hit with a metal bat sued the manufacturer of the bat, Little League Baseball, and a sporting goods chain. A $14.5 million settlement was awarded with the intention of improving sports equipment safety for children.
In each of these cases, there is a greater good that is served by the punitive award. In most cases, they serve to put organizations or industries on notice about the standards of behavior that the public expects and demands of them. In effect, they serve as a warning to others in the industry or in similar organizations that may be engaging in similar behaviors.
Contact a Morris and Sussex County Personal Injury Lawyer for a Free Consultation
It is important to remember that your case will be fought tooth and nail and given that organizations that have the ability to make large punitive payouts usually have large amounts of money for legal defense. For this reason, your choice of attorney will be critical to the success of your case.
Michael P. Burakoff has been successfully helping individuals and companies overcome challenging legal matters for more than 40 years.  Whether helping injured victims or defending his clients from claims, the Law Office Michael P. Burakoff has the same goal: to help our clients find satisfying and effective solutions for their legal matters.
If you suffered an accident, and consider your case deserves specialized attention, don´t hesitate to contact The Law Office Michael P. Burakoff, to schedule a free and confidential consultation regarding your case at 973-455-1567, or contact us online. Our offices are conveniently located in Morristown and Newton, covering both Morris and Sussex Counties, and we are also willing and able to come to you if you are unable to travel do to your injuries. Let us help you protect your rights today.