Risk of Drowsy Driving Accidents Despite Feeling Rested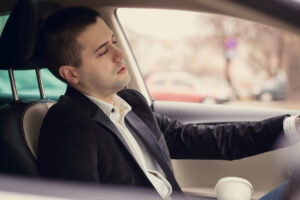 Morristown Auto Accident Attorney Discusses the Risks of Drowsy Driving
Serious Injury Attorney Serving Clients Across Morris and Sussex County with Offices Conveniently Located in Morristown and Newton NJ
Falling asleep while driving is very dangerous and is a major cause of car accidents in the United States. Despite drowsy driving being very common, researchers have had a difficult time figuring out who is most at risk for falling asleep behind the wheel. Until now.
Although a better understanding of the individuals at risk and the factors that increase risk can be powerful tools and help to effect change in and try to avoid these tragedies within our society, we still see people come into our office regularly having injured themselves or been the victim of a single car or multi car cTo speak with Attorney Burakoff or a member of our qualified legal team today in a free and confidential consultation regarding your recent motor vehicle accident caused by a distracted driver, please contact us online or through our Newtown or Morristown offices by dialing 973-455-1567erious crashes per year," said corresponding study author Michael Grandner, PhD, instructor in Psychiatry and member of the Center for Sleep and Circadian Neurobiology. "We already know that people who are sleep deprived in the laboratory have impaired driving performance, but we haven't been able to better define what sleep profiles and patterns put drivers in the general population at the highest risk."
The researchers said getting one extra hour of sleep can make all the difference. Individuals who get six hours of sleep or less on average have double the risk of driving drowsy compared to people who get seven hours of sleep on average. Worse, people who only get five hours of sleep or less at night are four times as likely to drive drowsy, according to the study.
Tired Drivers Can Cause Accidents Even if they Feel Rested
The study also found that people who get less sleep, meaning less than five and six hours of sleep, still reported getting enough sleep and feeling rested in the morning. However, the researchers found that these drivers are three times more likely to drive drowsy within a given month compared to people who get more sleep.
The finding that some people who feel well-rested still have a higher risk of falling asleep behind the wheel is very disturbing as it is up to drivers to know when they can safely operate a vehicle. People who don't get enough sleep at night but still feel like they do may be putting everyone's life at risk when they get behind the wheel without even knowing.
Signs and Symptoms of Drowsy Driving
All drivers should be aware of the signs and symptoms of drowsy driving, and understand that if they don't get an average of seven hours or more of sleep they have a higher risk of falling asleep behind the wheel. Knowing this can help people take steps to reduce their risk of being in an accident caused by drowsy driving.
Education and Accountability Can Help Reduce the Risk of Motor vehicle Accidents on New Jersey Road Ways
Concerned that you might be endangering yourself and the other drivers on the road due to sleep deprivation? Keep in mind the following, very telling signs that pulling over is the best option:
Difficulty focusing, frequent blinking, or heavy eyelids.
Daydreaming; wandering/disconnected thoughts.
Trouble remembering the last few miles driven; missing exits or traffic signs.
Yawning repeatedly or rubbing your eyes.
Trouble keeping your head up.
Contact a Morris and Sussex County Auto Accident and Catastrophic Injury Attorney Today
Personal injury attorney Michael Burakoff has been practicing law since 1976 in local New Jersey communities including Morristown, Netcong, Roxbury, Newton, Hopatcong, Rockaway, Parsippany, and all of Sussex and Morris Counties. Over the past four plus decades, Attorney Burakoff has cultivated a stellar reputation through client referrals and case results which speak for themselves. Our firm believes that seeking the financial compensation to secure your financial future is only part of the puzzle. We take pride in offering dynamic and personalized legal counsel to fit the unique needs of all our personal injury clients. Please call us at 973-455-1567 to schedule an appointment or visit our website to fill out an online form.