Personal Injury Do's and Don'ts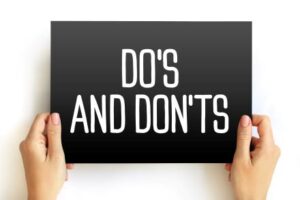 You were involved in a car accident. Or maybe you suffered serious injuries in a slip and fall. A personal injury can happen at any time.
When you suffer an injury, your world may be turned upside down. Who will pay for damage to your car? What will you do when the medical bills start coming in? When can you go back to work?
Life can be stressful as you recover from an injury. Here are some things you should and should not do during the process.
Do: Seek Medical Attention
Don't try to be tough after an accident. Medical issues can sometimes pop up later, so get prompt medical attention, and the sooner, the better. Your health is your top priority, especially if you want to file a personal injury claim. You will need all the evidence you can get.
Do: Gather Evidence
Any evidence you can collect will help your case. Take photos of the accident scene, as well as your injuries and any property damage. Jot down any notes you have about what happened. Get witness statements if possible.
Do: Report the Incident
If you were involved in a car accident, be sure to file a police report. If your accident occurred in a store or restaurant, let the manager know. The report will serve as your official record of what happened.
Don't: Admit Fault
Don't admit to the accident, even if you think you're at fault. Even saying "I'm sorry" could be insinuated as an admission. So after an accident, say as little as possible.
Don't: Delay Medical Treatment
As mentioned above, you need to see a doctor as quickly as possible. Any delay can be used against you. The insurance company could say that you're not really injured and try to deny your claim. You don't want that to happen, so get medical care promptly.
Don't: Settle for Less
You may want to settle your personal injury case as quickly as possible so you can move on. However, by settling quickly, you often get lowballed. This is what insurance companies want you to do: take the first offer you get. You should understand your injuries and long-term care needs first before agreeing to an offer that won't pay for all your damages.
Don't: Post on Social Media
You may be OK with sharing your life online, but you should avoid posting any details pertaining to your personal injury case. Insurance companies are actively looking for dirt on you, so avoid Facebook, Twitter, Instagram, and other social media sites until your case is over.
Contact a New Jersey Personal Injury Lawyer Today
After suffering a personal injury, things are not always cut and dry. By knowing what you should do and not do, you can make informed decisions.
One thing you should do after an injury is seek legal help from a Morristown personal injury attorney from The Law Offices of Michael P. Burakoff. We can help you with the next steps so you can protect your legal rights. To schedule a free consultation, call (973) 455-1567 or fill out the online form.
Source:
editorialge.com/dos-and-donts-after-suffering-a-personal-injury/