What is unique about truck accident and injury claims?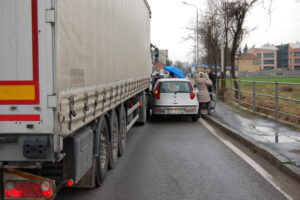 Tractor-Trailer Truck Accident Attorney Morris and Sussex County NJ
Auto Accident Attorney Representing Clients in Denville, Newton, Parsippany, Dover, Rockaway, Hopatcong, Mt. Olive, Netcong and across Morris and Sussex County
The effects of a truck in an auto accident are often much different than the effects on a smaller vehicle due to its size and force. From dump trucks to tractor-trailer trucks full of cargo, accidents involving trucks are often very serious. According to 2014 statistics by the Federal Motor Carrier Safety Administration, 72 percent of trucking accidents that resulted in fatalities involved tractor-trailers.
The severity of injuries sustained in trucking accidents is, generally speaking, more serious than those sustained in car accidents. Because of the weight of the truck, which is generally at least 8,000 pounds compared to the 2,000 pounds a car weighs, a truck's impact is far greater.  Injuries sustained in a trucking accident may have life-changing impacts such as spinal cord trauma, severe burns, crushed bones, brain injury, and concussion; and fatalities are much more common at the hands of a trucking accident.
Differences in Insurance Claims for Car and Truck Accidents
In addition to the severity of injuries possibly sustained in a trucking accident, the process for filing a report after a truck accident, an insurance claim, and the general outcomes, are different.
Compensation
Compensation for claimants in a truck accident is often much higher than that of a car accident due to the weight of the truck and the potential severity of impacts.
Liability
Determining liability in a truck accident claim is more complicated than the process in a two-car accident claim. Because trucks are more difficult and dangerous to maneuver and have such impairments as larger blind spots, a longer distance for braking, and heavy loads, they are at risk for causing more serious accidents than cars of smaller sizes. Because of their weight, tractor-trailers take over 500 feet to come to a complete stop after braking, compared to the just over 300 feet required for a car to stop after applying brakes.
While trucks are more likely to contribute to accidents because of the actual size and weight of the vehicle, smaller cars are more likely to contribute to accidents because of driver negligence.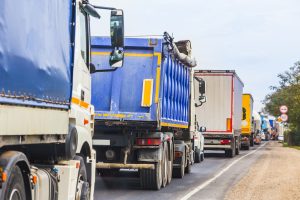 Liability could fall partially on the driver of the truck and partially on the driver of the car, or partial fault could lie in the hands of the truck's manufacturer. The Federal Motor Carrier Safety Administration noted that in 2014, 61 percent of large trucking accidents involved two cars, and 21 percent involved multiple vehicles, further muddying the liability claims.
In the case that the driver is a contractor, the process for filing becomes more complicated still, and it is imperative to hire an accident lawyer who can support your claim and ensure that you get the fair compensation for medical expenses and physical losses incurred as a direct result of the accident, whether it was the truck driver or the truck manufacturer who was at fault.
Legal Resources
The New Jersey Motor Vehicles Commission Accident Reports is the same for all autos including trucks; however, the legal resources trucking companies have available to conduct their own accident report for future evidence base differs from those of most private drivers.  Truck companies are equipped with contracted lawyers, and when one of their trucks is involved in an accident, they often send a lawyer directly to the accident scene to create a comprehensive accident report. As the driver of a car involved in a trucking accident, you will want to ensure that you have specific, documented evidence gathered at the scene to support your claim and the contact information of any witnesses to the accident.
Call an Experienced Morris and Sussex County Truck Accident Lawyer for a Free Consultation
If you have been involved in a trucking accident, it is imperative that you get the support of an experienced accident and personal injury lawyer. Contact our law office to schedule a consultation with an experienced member of our legal team, and we will help you recover your fair share.
At The Law Offices of Michael P. Burakoff, we have extensive experience helping clients and families recover full and fair compensation for truck accident injuries of all kinds in Denville, Newton, Parsippany, Dover, Rockaway, Hopatcong, Mt. Olive, Netcong, Morris County, and Sussex County.
To speak with Michael Burakoff and our seasoned team today in a free and confidential consultation regarding any kind of truck accident, your options for holding responsible parties liable and securing financial compensation, and how exactly we can help you to do so, please contact us online, or through either our Morristown office or our Newton office at 973-455-1567.