Traumatic Brain Injuries Caused by Car Accidents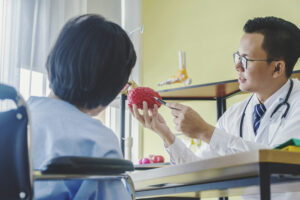 Traumatic Brain Injuries From Car Accidents Attorney Morris County NJ
Auto Accident and Brain Injury Attorney Serving Clients Across Morris and Sussex County with Offices in Morristown and Newton NJ
According to Science Daily and a CDC report, traumatic brain injuries (TBI) account for roughly 30 percent of all injury deaths in the United States. Motor vehicle accidents are the most common cause of emergency room visits, hospitalizations, and deaths related to traumatic brain injury among people aged 15 to 34. Between 2006 to 2014, the number of people seeking treatment for TBI and TBI-related deaths increased by 53%. Those who survive a TBI can face effects that last a few days or the rest of their lives. Early diagnosis and treatment are one of the most important ways to prevent many impairments or death.
Despite there not being as much research conducted into the link between car crashes and TBI, as compared to football players and military personnel, in general, the process of healing from a brain injury can take a very long time, if recovery is even possible. Brain injuries can affect the victims' physical, cognitive, and even emotional health. If you or a loved one has suffered an accident leading to a brain injury, you and your family may be entitled to financial compensation to cover damages including medical expenses, pain and suffering, lost wages, rehabilitation, and much more.
I Have No Visible Wounds. How Do I Know if I Have a Brain Injury?
The physical symptoms of brain injury (i.e. headache, nausea, fatigue, loss of consciousness, trouble with sleep, coordination issues, dizziness, seizures, etc) vary and can take minutes, hours, days, or even weeks to manifest.
Open head wounds may be an obvious sign of a head injury, but the skull doesn't need to have been penetrated or fractured for a traumatic brain injury (TBI) to occur.  In car accidents, the sheer force of the accident can cause the brain to collide against the internal surface area and bone of the skull. When a moving head quickly stops, the brain and your head continue its forward movement, striking the skull's interior. The result is often bruising of the brain (i.e., a contusion) and bleeding (i.e., hemorrhaging), two types of injuries often invisible and undetectable at the scene of the accident, or at the time of injury.
Important Steps to Take After a Sussex County Motor Vehicle Accident
In the immediate aftermath of an accident always seek medical attention. Even if you feel fine, you may have sustained an injury which has yet to present symptoms. Waiting to visit a doctor can negatively impact a future personal injury. A doctor will be able to determine your injuries through an examination. This will ensure a brain injury diagnosis as soon as possible so you can receive the proper medical treatment you need. A diagnosis from your doctor will also link your injury to your accident. Your physician will rule out any previous conditions as to the cause of your TBI and attribute it to the actual accident and not something other than the car accident.
Brain injuries can be life-altering, and your condition may lead topermanent disability – preventing you from ever returning to work. Even in cases where TBI victims are able to return to work, permanent brain damage can significantly impact their lives. Fortunately New Jersey Civil Courts recognize these damages and frequently award higher payouts for victims of catastrophic injuries.
File An Accident Claim With Your Insurer
Always notify yourinsurance company as soon as possible after an accident to protect your rights to collect benefits. You do not have to discuss the details of the accident with your own insurance company before you talk to an experienced motor vehicle accident lawyer. You should not talk to a representative of any other insurance company before you talk to an independent attorney. You should not sign any paperwork, releases or settlement agreements before you consult a lawyer.
Newton Accident Attorney Recovers Compensation for Traumatic Brain Injuries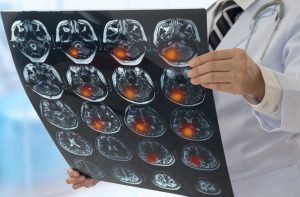 To recover full and fair compensation for your injuries, our Newton attorney will need to prove that you were involved in an accident, your accident was directly caused by the negligence or recklessness of another party, and that your injuries were the direct result of the accident in question.
Medical expenses can exceed expectations due to the numerous essentials tests for diagnosing the amount of brain damage the victim suffered. The severity of the situation may require a skull, neck, and spinal x-rays along with an MRI or CT scan. Once someone is diagnosed with a traumatic brain injury, they will require substantial therapy and treatment to help with his recovery, if recovery is possible.
Morris and Sussex County Attorney Handles Motor Vehicle Accident and TBI Cases
It is important to remember that once your personal injury settlement is final, there is no second chance to recover damages for a lifetime of medical bills, missed work, and other damages. Before signing any paperwork or agreeing to a lump sum settlement from an insurance provider, speak to our experienced Newton attorney to understand your legal standing.
Brain injury cases can be very complex, so don´t take any chances and consult with a traumatic brain injury attorney before pursuing your TBI lawsuit.  These types of cases require both legal and medical expertise.
If you or a loved one has suffered a traumatic brain injury, call an experienced injury lawyer at The Law Offices of Michael P. Burakoff at 973-455-1567 or submit an online form.