Transit Bus Crash Kills 1, Injures 8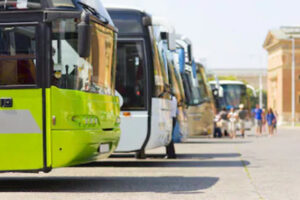 We see buses every day in New Jersey. They can especially be found in city areas and on highways. We often take these buses for granted, but the truth is that they carry the same risks as other vehicles. They can also get into fatal bus crashes.
Sadly, this was recently the case in Newark. A wrong-way crash involving a passenger vehicle and a transit bus killed one person and injured eight others. The fatal accident occurred on the morning of August 17 on Hawthorne Avenue, in front of Hawthorne Avenue School.
The bus was traveling from Irvington to Bloomfield. A car turned onto Hawthorne Avenue and was traveling in the wrong direction when it collided head-on with the transit bus. The driver of the car, a 33-year-old woman, died at the accident scene. The bus driver and seven passengers were injured. The driver and four passengers were taken to a local hospital to be treated for their injuries. The other three injured people were treated at the accident scene. The crash is under investigation.
Common Causes of Bus Accidents
Bus accidents can happen in many ways. Here are the most common causes:
Bus driver fatigue. While not as bad as truck drivers, bus drivers also work long hours at times. This can cause them to suffer from fatigue, especially if they have a condition such as sleep apnea.
Bad weather. Rain, ice, and snow can cause poor road conditions. Buses are very heavy and drivers often have trouble navigating these roads. Drivers may lose control, and this can lead to serious accidents.
Blind spots. Buses are long and often have many blind spots. While the mirrors on buses can help, there are times in which drivers cannot fully see what's to their left or right side.
Other drivers. Many motorists drive aggressively around buses. They may pass buses illegally or pull out in front of them, causing major accidents.
Bus company negligence. Buses require a lot of maintenance to keep them operating safely. However, bus companies often don't follow federal regulations. In order to save money, they don't maintain them like they should, which can sacrifice public safety.
Bus driver negligence. Just like other motorists, bus drivers can also be negligent. Some are poorly trained. Others drive too fast. There are also bus drivers who use their phone while driving, which is illegal. 
Contact a New Jersey Personal Injury Lawyer Today
Bus crashes are not common, but when they do occur, they can cause serious injuries and even death. Fortunately, victims can receive compensation for their injuries and other damages.
The Morristown bus accident lawyers at The Law Offices of Michael P. Burakoff can assist you with your bus accident case. Because buses are owned by other entities, the process can be complex. Schedule a free consultation to see how we can help. Call (973) 455-1567 or fill out the online form.
Resource:
abc7ny.com/bus-crash-car-fatal-nj-transit/10956644/