Flying Car Crashes Into Wendy's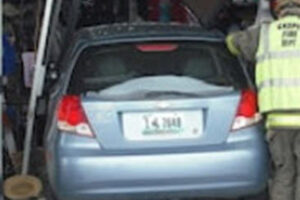 When a person is eating outside of a fast food restaurant, they don't usually expect to get hit by flying cars. However, this was recently the case in New Jersey, when a car accident occurred outside a Wendy's in South Brunswick
On the afternoon of August 16, a Toyota Corolla exited Route 130, near Melrich Road, and went through a grassy area. It went past two utility poles and four trees.
The vehicle had gone over a berm and flipped vertically. It then crash landed into an Audi that was in the drive-thru line. The impact caused both vehicles to smash into the restaurant and outdoor dining area, narrowly missing a family having lunch.
The windows of Wendy's were shattered. Miraculously, even though the restaurant was crowded, nobody inside was injured. Just two people suffered minor injuries. The driver of the Toyota was hospitalized in stable condition. A child inside the Audi complained of pain and was taken to a local hospital.
It is believed that the driver of the Toyota, a 57-year-old woman, suffered a medical emergency before the incident. She was wearing a seatbelt, which likely saved her life.
The building was severely damaged. The Wendy's is now temporarily closed pending an examination.
Medical Emergencies While Driving
A person can suffer a medical emergency at any time—even while driving. A person can suffer  a seizure or heart attack. They may become extremely dizzy. They may choke on food. They may lose consciousness and go into a coma.
When a person is driving at the time they are suffering from a medical emergency, though, the situation becomes even more dangerous. The driver is likely to lose control, as was the situation here. Many of these incidents cause serious injuries and even death. Fortunately, that was not the case in this situation.
You may wonder though: is the driver still considered negligent? The medical condition was likely beyond their control. Would they be at fault?
In order to be absolved of any negligence, the driver would have to prove all of these elements:
They suddenly lost consciousness before the accident.
They lost consciousness due to an unforeseeable medical emergency.
This caused the driver to lose control of the vehicle.
If these three elements can be proven, the driver and their insurance company may be off the hook financially for any damages caused by the accident.
Contact a New Jersey Personal Injury Lawyer Today
Car accidents can happen in a variety of ways. Drivers can lose control for medical reasons and in other situations, causing serious crashes.
No matter how your accident occurred, seek legal help from the Morristown car accident attorneys at The Law Offices of Michael P. Burakoff. Schedule a free consultation by calling (973) 455-1567 or filling out the online form.
Resource:
pix11.com/news/local-news/new-jersey/video-car-flies-over-wendys-parking-lot-crashes-restaurant/