2 Fatal Car Accidents On Route 571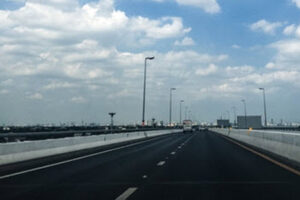 Head-on car accidents are often deadly, as was recently the case in New Jersey. Two separate car accidents on Route 571 in Jackson have killed two people and a dog. The crashes occurred on the week of August 9.
On the morning of August 9, 52-year-old Claudine Silvestri was heading west on Route 571, near Oak Ridge Parkway. She was in the left lane when she drifted into the right lane for unknown reasons.
She lost control and hit a curb and guard rail. She then went to the left and veered into oncoming traffic. She collided head-on with a truck, with her vehicle bursting into flames.
Witnesses tried to remove her from her vehicle, but the door was locked and her legs were stuck under the dashboard. The fire consumed the vehicle. When firefighters extinguished the fire, Silvestri was still trapped inside. She died at the accident scene. Silvestri worked as a secretary for the Jackson Public School district. The crash is still under investigation.
The second crash occurred on the afternoon of August 13. It also happened on Route 571 and was also a head-on accident.
A Nissan was traveling south on the road when it collided with an Audi traveling north. The driver of the Nissan, a 51-year-old man, as well as a dog inside the vehicle were both killed in the crash. The driver of the Audi, a 45-year-old man, suffered minor injuries. The road was closed for several hours as police investigated.
Head-On Crashes
A head-on crash occurs when two vehicles driving in opposite directions collide with each other. Any type of vehicle can be involved, whether it be a car, truck, or motorcycle. When a vehicle hits a pole, tree, light pole, barrier, or other stationary object, it could also be classified as a head-on crash, although many consider it to be a solo-vehicle crash.
Head-on collisions are not as common as other types of crashes. However, they are considered to be the most dangerous due to the impact involved. Both vehicles are heading toward each other before they crash. Head-on accidents are known to cause life-threatening injuries and even fatalities.
Head-on crashes can be caused by many factors, such as distracted driving, fatigue, confusion, and speeding. They are often caused by unsafe passing, especially on two-lane roads. These accidents can also be caused by intoxication, which is why motorists should never drive while impaired.
Contact a New Jersey Personal Injury Lawyer Today
Unfortunately, driving a car is not the safest activity. Auto accidents can happen anywhere, and tend to be more common on certain roads. Many result in serious injuries and even death.
If you or a loved one has been injured or killed in a car accident, seek legal help from the Morristown car accident attorneys at The Law Offices of Michael P. Burakoff. We can assess your case and help you understand your rights to compensation. Schedule a free consultation by filling out the online form or calling (973) 455-1567.
Resource:
nj1015.com/head-on-crash-in-jackson-nj-kills-driver-dog-on-route-571/