The Difference Between Workers' Compensation and Personal Injury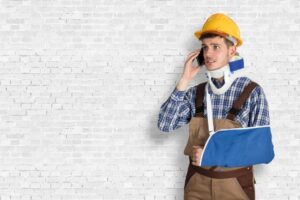 When a person is injured at work, very often one of two (or both) avenues to financial compensation are available to them: a workers compensation claim and/or a personal injury claim. The two are not mutually exclusive, and while you usually can not sue your own employer if you are injured while working, injury victims can still file personal injury claims against other negligent third parties.
However, there are significant differences between the two types of injury claims, namely the requirements to secure compensation, and the type and amount of compensation that can be secured.
At The Law Offices of Michael P. Burakoff we bring our years of understanding  to personal injury and worker's compensation law, focusing on working not only with our clients, but with their family as well. Our firm has extensive experience securing full and fair compensation in personal injury as well as worker's compensation claims of all kinds for injury victims in towns across Morris County and Sussex County towns, including Hopatcong, East Hanover, Dover, Netcong, Parsippany, Florham Park, Chatham, Mt. Olive, Denville, Newton, Morristown, and more
Workers' Comp and Personal Injury Requirements Dover NJ
Though very similar on the surface there are several important legal differences between workers compensation and personal injury claims.
The largest and possibly most important difference between personal injury and worker's compensation is that a personal injury claim is based on fault and a workers' compensation case isn't. To recover damages against someone for a car accident, a slip and fall, or indeed any type of negligence claim, the other person must have been negligent.
Fault is necessary in a Personal Injury Case
In any personal injury case fault is a necessary element.  Without clear fault due to recklessness or negligence there can be no personal injury restitution.  In essence you must be injured, and that injury must be proven to be due to the negligence of another party.
As a hypothetical example, if a delivery driver is injured in a common traffic accident then that worker may possibly file a workers compensation claim if the accident occurred while they were working. However if a delivery driver is involved in an auto accident while working with a drunk driver or otherwise negligent driver, then that negligence can be grounds for a personal injury case against the the negligent driver as well as a workers compensation claim if the accident occurred while the driver was working.
Another example may be if an employee is the victim of an assault and battery while working that causes them to miss time at work.  In this situation both a workers' compensation as well as a personal injury claim may be warranted.
No Fault Necessary in a Workers' Compensation Case
With workers' compensation claims, any employee injured on the job is entitled to workers' compensation benefits, with some very limited exceptions. Workers' compensation requires not specific fault or negligence. It is not necessary to prove that your employer or your co-workers did anything wrong in order for you to receive workers' compensation benefits. Even in the event that your own negligence caused your injury, you are still entitled to receive workers' compensation benefits.
Parsippany NJ Injury Claims Attorney
Another distinction between personal injury claims and workers' compensation claims is a difference in damages that can be awarded.  A personal injury claim or lawsuit entitles compensation to pain and suffering damages, while a workers' compensation claim does not. In a personal injury claim or lawsuit, you have the right to recover all of the damages that you have suffered. This may include lost earnings, lost earning capacity, medical bills, future medical expenses, permanent impairment, pain and suffering, and loss of enjoyment of life among other things. In fact in a personal injury lawsuit, "pain and suffering damages" often represent 2-5 times the medical expenses incurred by the injury.
However in a workers' compensation case, you are only allowed to receive weekly compensation, permanent impairment benefits, medical bills, and rehabilitation costs.  While these costs are often substantial in the case of a serious injury, workers' compensation will never include a pain and suffering component.
Contact Our Morristown Injury Claims Lawyer Today
Personal Injury and Workers' Compensation attorney Michael P. Burakoff is proud to protect the legal rights of clients injured on the job or due to the negligence of others across Morris County, Sussex County, Chatham, Andover, Florham Park, Dover, Hopatcong, Morristown, Netcong, and all of Northern New Jersey. Our small firm size allows us to offer personalized and highly effective legal service.
For a free and confidential consultation regarding your accident, your injuries, and your possible financial compensation through a workers compensation claim, please contact us online or give us a call at our Morristown or Newton offices by dialing 973-455-1567 today.