Tips for Staying Safe On Your Bicycle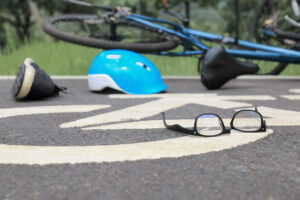 Bike safety tips from your Morris County Injury Attorney
Cycling is an activity enjoyed by many New Jersey residents.  Whether as a means of transportation or a source of exercise and and leisure cycling is usually a safe and fun activity. Bicycle accidents can result in both personal injury and damage to property, which includes but is not limited to damage to the bike itself. Due to the lack of protection and exposure to the roadway and its motorists, an accident involving a cyclist, similar to a pedestrian accident, can result in catastrophic injuries such as broken bones, spinal cord injuries, traumatic brain injury, paralysis and more. The danger to riders and severe nature of the injuries that are seen after a cyclist collides with a car, truck or bus requires attention to detail and adequate experience/training that the rider should have based on the degree of difficulty posed by the environment or particular roadway.  In order to cycle safely there are several safety tips you should keep in mind.
Michael P. Burakoff has extensive experience serving injured cyclists in Parsipanny, Rockaway, East Hanover, Newton, Morristown, Mt. Olive and many towns and cities across Morris and Sussex County. We believe that working closely not only with our clients but also their families throughout the legal process helps to be sure that all of our clients needs are met and their complete interests are represented thoroughly.
For a free and confidential consultation regarding your bicycle accident and your potential for financial compensation through a personal injury claim, please call our Newton office or our Morristown office today.
Sussex County Bicycle Safety and Traffic Laws
Though we can not control the actions of others we can make cycling a much safer activity by following the traffic laws currently in place in Morris and Sussex County as well as the rest of New Jersey. These laws have been put in place specifically to make cycling safer.  Failure to follow any of them will increase your risk of injuring yourself or others.
It is a common misconception that bicyclists do not have to adhere to the same rules of the road as motor vehicles. However, both motorists and cyclists must follow the same laws, are entitled to the same rights and carry the same responsibilities.
As a cyclist you must follow all signals, signs and road markings and yield to crossing traffic when you do not have the right of way. In addition this means using the correct arm and hand signals when turning left or right and when stopping. Moreover, just like motorists, you should always make sure it is clear before you change lanes or turn.
An additional important tip is to utilize bike lanes and bike paths when and where they are available. Bike lanes and paths marked so cyclists can have a designated area to ride while remaining safe and away from traffic are available in many Sussex County and Morris County communities. It is important to follow the direction as marked.
Wearing a helmet and proper safety gear is also advisable when riding a bike. Though this may not prevent all injuries in an accident it can help to prevent brain damage an lessen injury to the head and/or neck.
Finally stay alert at all times while riding. On the best day the roads can be filled with hazards for cyclist such as a motorist opening a door.  Avoiding distraction can give you enough time to evade unfortunate and avoidable collisions.
What Should I Do If Involved In a Bicycle Accident in Mt. Olive?
Being involved in any accident can be a shocking and traumatic experience with potential health, financial and legal ramifications.  If you are involved in an accident because of dangerous road conditions or someone else's negligence and suffered personal injury or property damage,  it is imperative that you understand your rights and protect your future via the counsel of an experienced Personal Injury Attorney who has litigated many bicycle and pedestrian accident cases across Morris and Sussex Counties.
The advocacy of Counsel is important for many reasons, namely, that you as the injured party or in relation to the injured loved one comprehend the law, understand your rights as it relates to the law, and most importantly that you are in a position to strategically assemble a plan and identify the best course of action.  When cyclists are injured due to the recklessness or negligence of another party, a Mt. Olive bicycle accident lawyer can fight to recover damages in a fair and full settlement that addresses every hardship that the victims and their families may face.
Contact a Bicycle Accident Attorney with Offices in Sussex and Morris County Today
Since 1972, personal injury attorney Michael P. Burakoff has taken pride in serving local Morris County and Sussex County communities such as Netcong, Hopatcong, Denville, Dover, East Hanover, Chatham, Newton, and across Northern New Jersey.
If you or a loved one has been injured on New Jersey roads, rely on our experience and legal knowledge to gain a verdict or settlement that may help with expenses and go a long way toward helping you make a full physical, emotional and financial recovery.
For a free and confidential consultation with Attorney Burakoff regarding your bicycle accident, your injuries, and your potential for a personal injury claim, please contact us online or call our Morristown of Newton offices by dialing 973-455-1567 today.