Pool Accidents and Injuries in Sussex and Morris County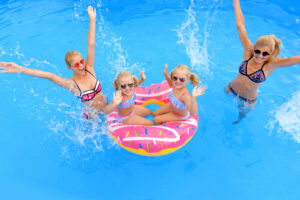 Summer is always a time of fun and play.  During our enjoyment of the sunny months many types of accidents can occur such as motor vehicle accidents, pedestrian accidents, and even slip and fall injuries. However, when we are relaxing with our family and friends at the poolside we often feel safe and without worry. This lack of care and caution can be dangerous and even deadly.
According to The National Safety Council (NSC) drowning is the second leading injury-related cause of death in children under the age of 15. Shockingly there are an average of 7,000 drowning deaths each year in The United States. The Centers for Disease Control reports, children between the ages of 1 and 4 are most at risk, and the majority of these drownings take place in home swimming pools. Despite being the location of countless fun family gatherings and parties, pools can be very dangerous places, and there are strict regulations in place regarding pool safety for a reason.
In today's article, we will discuss William's Law, and how this law can help people and families who are injured when these swimming pool regulations are not properly observed in Sussex County, Morris County and the rest of New Jersey.
William's Law Attorney Mount Olive NJ
In February 2010, New Jersey legislators passed the pool safety laws known as William's Law.  Among the many regulations outlined in this legislation are terms for pools, their surrounding structures, and the behavior of pool owners. Our Mount Olive pool safety attorneys recommend that every pool owner is compliant with the following state standards:
A "Swimming Pool" is considered to be any structure containing water of eighteen (18) or more inches in depth or eight (8) feet or greater in width. This includes swimming pools,ponds, non-portable spas, hot tubs, fountains, as well as other bodies of water

Swimming pools are obligated to be enclosed by a four sided fence or other type of barrier

Gates or other openings leading to the pool area must have self closing and self latching openings
To be sure that your pool is up to code,  please view the state pool safety laws or contact a qualified Sussex County or Morris County attorney.
Netcong NJ Pool Injury Accident Lawyer
If you or someone you know has been injured or died in a pool accident New Jersey's Williams law can be used by an experienced Netcong attorney in order to get legal restitution for you and your family in the form of a personal injury claim or a wrongful death suit.
A successful William's Law claim will require you and your attorney to prove:
An accident occurred when, where, and how you say it did, and that this accident directly lead to injuries.

The injuries have resulted in specific damages to life (medical expenses, lost income, physical and emotional pain and suffering).

The accident, and resulting injuries, were the result of the pool owners lack of compliance to the stipulations for pool safety put forth by William's Law i.e. improper fencing.
To adequately prove each of these elements, our Morris County William's Law lawyers will often work with investigators, engineers and other experts to establish fault on the part of the pool owner. We will also work with your treating physicians to document the nature and extent of all injuries and disabilities that were sustained. Combined with our own knowledge of personal injury and wrongful death law we will work hard to put together a clear picture of what happened, how injuries occurred, and why another party is responsible for those injuries.
Contact A Morristown Swimming Pool Injury Attorney Today
Since 1976 William's Law attorney Michael P. Burakoff has served clients from local Sussex County and Morris County communities like Newton, Parsippany, Dover, Denville, Rockaway, Morristown, Florham Park, Chatham, and all of Northern New Jersey. Our firm is known for our skill in recovering substantial financial compensation for our clients and their families. Attorney Burakoff will take the time to work individually with each one of his clients to deliver the highest quality and personalized legal service.
For a free and confidential consultation regarding your potential for financial compensation through a wrongful death personal injury claim, please contact us online or call our Morristown or Newton office by dialing 973-455-1567 today.