Pain and Suffering Compensation Netcong, NJ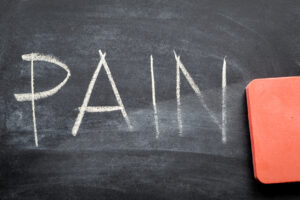 The lives of accident victims and their families can be changed in an instant. For those who suffer serious injuries such as brain injury, spinal cord injury, permanent disability, or even wrongful death, it is possible to recover damages beyond mere reimbursement through a successful personal injury claim. Perhaps the most common and the most valuable form of compensation in personal injury cases is that of pain and suffering. Many victims are entitled to financial consideration to compensate for both the physical pain and the emotional suffering to which they were exposed as a result of an accident.
Today, our personal injury attorneys will be defining pain and suffering compensation for personal injury cases, discuss how it is calculated, and much more.
Denville, NJ Pain and Suffering Compensation Lawyers
Our Denville pain and suffering compensation lawyers understand that there are two types of damages awardable through personal injury claims: economic and non-economic. Simply put, victims are entitled to both straight one-to-one reimbursement for incurred expenses AND additional considerations which are meant to protect victims, punish wrongdoing entities, and compensate for the undue suffering of the victim and their families.
Economic or Compensatory damages may include:
Medical expenses such as doctor's bills, ambulance fees, rehabilitation costs, hospital bills, and more
Lost wages for work that was missed in the past, present, and projected into the future
Property damage which was sustained as the result of the injurious accident
Non-Economic or Non-Compensatory damages may include:
Pain and suffering
Emotional Anguish
Wrongful Death
Loss of Companionship
Loss of Consortium
Punitive Damages
How is Pain and Suffering Calculated in Morris County?
As mentioned previously, pain and suffering compensation has the potential to make up the highest percentage of an overall personal injury settlement or verdict. That is due to the way damages are calculated in New Jersey. In the majority of cases, pain and suffering is determined using a calculation based on your incurred medical expenses. This can include all expenses which you have incurred or may incur in the future. At this point, it is a matter of your Morris County personal injury attorneys proving the severity of your injuries.
The amount by which your medical bills will be multiplied is heavily dependent on the severity of your injuries. For example, let us look at two scenarios where the same accident led to different injuries, and therefore a different pain and suffering settlement.
Susan and Janine are both injured in car accidents. They both have medical expenses in the amount of $10,000. Susan has suffered a sprained neck and several lacerations, which are expected to fully heal. Janine has suffered multiple fractures which has led to a permanent disability. In these cases, Susan's medical bills may be multiplied by a smaller number between one (1) and three (3) whereas Janine's bills will be multiplied by five (5), ten (10), or even more. Due to the nature of their injuries, Janine may be entitled to $100,000 in pain and suffering while Susan may only walk away with $10,000.
Injured in a Serious Accident? Contact a Morristown Personal Injury Attorney Today
At The Law Offices of Michael P. Burakoff, P.A., our legal team works with the families of accident victims, not just our clients. We believe that this dedication to the attorney-client relationship allows us to deliver more personalized and ultimately more high quality legal service for those who have been injured in serious accidents. Attorney Burakoff has decades of experience serving local Morris and Sussex County communities such as Hopatcong, Morristown, Newton, Netcong, Roxbury, Mt. Olive, Rockaway, and all of Northern New Jersey. Our attorneys have secured multiple million dollar settlements and verdicts for our local clients and we will work hard to make sure you and your family get the financial support you deserve.
For a free and confidential consultation regarding your accident, injuries, and personal injury claim, please contact us online or through our Morristown or Newton, NJ offices today by calling 973-455-1567.