New Jersey's Distracted Driving Laws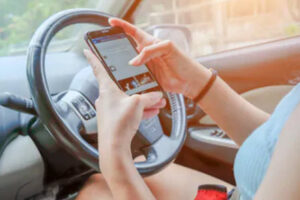 With smartphones being so ubiquitous nowadays, people use them all the time—even while they're driving. You probably see drivers on their phones on a daily basis. While texting, emailing and searching the internet isn't so dangerous when a person is sitting at home, it can have deadly results when done while driving.
Phone use while driving is considered distracted driving, but it's not the only activity. Distracted driving is defined by New Jersey law as "any activity that could divert a person's attention away from the primary task of driving." This could include reading, eating, grooming, adjusting the radio, tending to kids and pets and even talking to passengers. However, texting while driving is the most dangerous distraction, as it takes the person's eyes off the road, hands off the wheel and their mind off the task of driving.
While smartphone usage accounts for approximately 22% of distracted driving accidents in New Jersey, the most common distraction is actually daydreaming. Daydreaming is a cognitive function that causes a person to lose focus of their task of driving. Between 2012 and 2016, more than 800,000 accidents in New Jersey—approximately 65% of the state's accidents—were caused by distracted driving.
New Jersey Laws
Handheld phone use is illegal in New Jersey and is therefore less common. While hands-free use is legal, it appears to be just as dangerous as handheld use.
New Jersey law prohibits various uses of electronics. Text messaging and use of video games while driving is prohibited. So is the use of other portable communication devices.
Drivers under the age of 21 and drivers who have a learner's permit only cannot use any portable communication devices while driving—even while in hands-free mode. School bus drivers are prohibited from using cell phones while driving, even in hands-free mode.
There are several exceptions to this rule. A driver can use their cell phone while driving in the following situations:
The driver fears for their safety.
The driver believes that they or someone else may be a victim of a criminal act.
The driver is using their phone or other device to report to a car accident, fire, medical emergency, road hazard, reckless driving or driver who may be under the influence of alcohol or drugs.
Penalties
A first-time offender in New Jersey could face a fine of $200-$400. A second offense is even more costly, at $400 to $600. A third or subsequent offense can result in a fine of $600 to $800, as well as three points on your driver's license and a possible 90-day license suspension.
Contact a New Jersey Personal Injury Lawyer Today
Talking on the phone, texting and eating may seem like innocent activities while driving. However, they take the driver's eyes and focus off the road, often leading to serious accidents.
We take distracted driving seriously. The Morristown distracted driving accident lawyers at Law Offices of Michael P. Burakoff can assess your car accident claim and help you get the compensation you deserve. Schedule a free consultation by calling (973) 455-1567 or filling out the online form.
Resourc:
trustedchoice.com/distracted-driving/new-jersey-laws/