New Jersey City To Crack Down On Distracted Drivers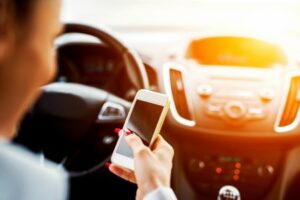 Many motorists text while driving. This is distracting behavior that can cause a driver to lose focus of the road. They may take their hands off the wheel, their eyes off the road and their mind off the task of driving.
Distracted driving is a serious issue that causes thousands of fatalities every year. The New Jersey city of Holmdel is hoping to bring more awareness to this issue with a campaign during the month of April. Law enforcement will be running a "UDrive, UText, UPay" campaign aimed to target drivers who use their cellphone to talk and text while driving.
In 2018, driver inattention contributed to half of the state's crashes. Driver inattention was actually at a rate seven times higher than that of the next highest factor: speed.
Distracted driving is defined as any activity that takes a driver's attention away from driving. While using your phone is the most common type of distraction, eating, drinking, grooming, reading, changing the radio station and dealing with passengers and pets are also common distractions. Texting, however, is the most dangerous, since reading or sending a text takes your eyes off the road for an average of five seconds.
New Jersey is one of eight states that is slated to receive federal funds in 2021 to deal with driver distraction. The money will be used for multimedia public awareness campaigns as well as police overtime.
New Jersey Distracted Driving Laws
Like almost all states, New Jersey has distracted driving laws in place. Specifically, the state  prohibits texting, handheld phone use and video game use while driving. A driver also cannot use other communication devices while driving, such as tablets. New Jersey also prohibits school bus drivers from using a cell phone at all while driving. In addition, drivers under the age of 21, as well as others who have a learner's permit, are not allowed to use cell phones and other portable communication devices, even if they are connected via Bluetooth.
However, there are some exceptions to New Jersey's distracted driving laws. For example, if the driver's life is in danger or if someone is trying to commit a criminal act upon them, then they can use their cell phone and call for help. In addition, the driver can use their cell phone or other device to report an unsafe situation, such as a fire, road hazard, car crash or medical emergency. They can also call and report an unsafe driver, such as one who is speeding, driving recklessly or driving while intoxicated.
Contact a New Jersey Personal Injury Lawyer Today
Distracted driving is a serious issue that can lead to deadly accidents. It's sad that drivers don't focus on the road as much as they should. Hopefully, with more awareness, these types of crashes will decrease.
If you were injured by a distracted driver, the Morristown distracted driving accident attorneys at The Law Offices of Michael P. Burakoff can help. We can assess your case and help you obtain the compensation you deserve. To schedule a free consultation, fill out the online form or call (973) 455-1567.
Resource:
patch.com/new-jersey/holmdel-hazlet/holmdel-pd-announces-april-texting-driving-crackdown