Types of Nursing Home Abuse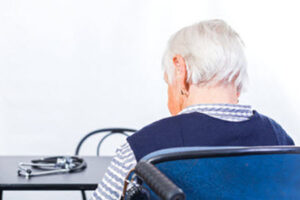 People often send their loved ones to nursing homes when they can no longer care for themselves and family members cannot care for them either. Nursing homes are supposed to provide good care for their patients, but ironically, many provide substandard care. Many abuse and neglect patients, causing serious injuries and even death.
Nursing home abuse happens quite often. It is estimated that as many as 5 million senior citizens are abused every year.
Nursing home abuse can happen in many ways. Here are some types of abuse you should be aware of if your loved one is in a nursing home.
Physical Abuse
This is probably the most common type of abuse you are aware of. Physical abuse involves any type of contact that can result in pain or injury. It may involve hitting, pushing, kicking, slapping, pinching, burning or hitting someone with an object. Force-feeding and the use of physical restraints are also considered physical abuse.
Emotional Abuse
This is another common type of abuse seen in nursing homes. Staff members may do things to humiliate or degrade patients through emotional pain or distress. They may verbally assault them with threats, insults, harassment and intimidation.
Neglect
Neglect occurs when a staff member fails to care for a patient. They may not feed them or give them medication. They may not dress or groom them or clean their living space. Neglect may or may not be intentional. Nursing homes are very busy and it's not uncommon for staff members to be overworked. They may be overwhelmed and forget about a patient. Still, this is not acceptable, as this neglect can lead to death.
Financial Abuse
This is when a staff member takes advantage of a patient's money and/or assets. They may steal the items or engage in fraudulent activities, such as forging signatures and cashing checks without authorization. They may even have the patient sign important legal documents, such as wills, contracts and power of attorney, while they are mentally incapacitated.
Sexual Abuse
Again, many nursing home staff members take advantage of patients and this means sexually abusing them without their consent. This may involve sexual intercourse, inappropriate touching, taking off the patient's clothes and the staff member exposing themselves. Family members should look for signs of sexual abuse, such as urinary tract infections, STDs, pelvic bleeding, difficulty walking or standing, bruising and skin irritation. Victims may also experience emotional abuse such as PTSD, fearfulness, anxiety and withdrawing from family members.
Contact a New Jersey Personal Injury Lawyer Today
Unfortunately, vulnerable populations such as the elderly are prone to abuse. They often arrive in nursing homes with severe physical and mental limitations and cannot defend themselves from such violence.
If your loved one has suffered abuse or neglect in a nursing home, seek legal help right away. The Morristown personal injury lawyers at the Law Offices of Michael P. Burakoff have more than 40 years of experience with nursing home abuse and other personal injury claims. To schedule a free consultation, fill out the online form or call (973) 455-1567.
Resource:
ncoa.org/public-policy-action/elder-justice/elder-abuse-facts/