New Jersey Woman Faces Prison Time in Distracted Driving Case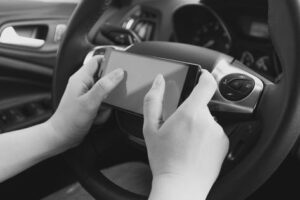 Driving is an activity that requires a lot of focus. However, some motorists think nothing of using their phones or engaging in other distracting behaviors while driving, even though distracted driving accounted for 8.5% of fatal car accidents in 2019.
In fact, distracted driving led to the death of a pedestrian in New Jersey. A woman has been sentenced to five years in prison for allegedly texting while driving, causing her to rear-end a vehicle, which fatally injured a 36-year-old woman in September 2016.
The woman was determined to be guilty by a jury in November 2019 and she was recently sentenced. She plans to appeal the decision. She was not given bail and must report to jail soon.
New Jersey has banned the use of a handheld phone while driving in 2012. This state law allows for vehicular homicide charges and prosecution. Almost all states have laws in place to deter texting while driving, but this is the first case in New Jersey to reach trial based on that law.
While in court, the woman often broke down in tears and expressed remorse for her actions, but never clearly admitted to texting while driving. In lieu of prison time, she requested probation as well as community service where she would speak about the dangers of distracted driving. However, the judge preferred imprisonment, since the woman never admitted to texting while driving.
The woman worked for the non-profit agency Jewish Renaissance Foundation. Several people served as character witnesses to prove that she was a good person While nobody questioned her character, the underlying issue was that her life was not the only one at issue.
Due to her reckless behavior, she killed a woman. The woman died five days after the crash, and one day after her wedding anniversary. Her widowed husband spoke about plans of having a baby. He is still haunted by the images of her dying. The victim's father was devastated by the woman's death and died soon after she did.
The incident occurred when the victim, who worked as a research scientist at International Flavors and Fragrances factory, was taking a break and crossing the street. That was when the defendant rear-ended a Toyota Corolla in her Mercedes. The Toyota hit the pedestrian. Her face smashed off the windshield and her head smashed the ground several times.
The woman claimed that she was not texting, but instead adjusting her defogger. However, she received a text message just one minute before the accident. Also, there was evidence that the text had been read and she even started a response that had not been sent.
Contact a New Jersey Personal Injury Lawyer Today
Distracted driving is an issue that very few people take seriously. In this case, it led to the death of an innocent person.
If you or a loved one was injured or killed in a distracted driving accident, make sure you understand your legal rights. Discuss your case with the Morristown distracted driving accident attorneys at the Law Offices of Michael P. Burakoff. He has more than 40 years of experience handling personal injury cases in New Jersey. To schedule a consultation, call (973) 455-1567 or fill out the online form.
Resources:
thezebra.com/research/distracted-driving-statistics/#:~:text=In%202019%2C%20distracted%20driving%20was,involving%20distracted%20drivers%20(CrashStats)
app.com/story/news/local/courts/2020/08/21/alexandra-mansonet-sentencing/5599085002/