Characteristics Linked To Distracted Driving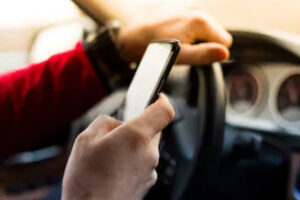 Safety should be a priority while driving, yet many drivers don't always focus when behind the wheel. They are engaging in activities that take their hands, eyes, and focus off the act of driving.
Distracted driving is a serious situation that kills more than 3,000 people every year. While any action not related to driving can be deemed a distraction, such as eating, reading, dealing with pets and children, applying makeup, or changing radio stations, smartphone use is the most common distraction. Using smartphones to call, text, and email while driving is becoming a greater threat.
So what exactly contributes to distracted driving? What situations make drivers use their smartphones more often? Texas A&M University researchers recently gathered some data from smartphones to find out.
The doctoral students from Texas A&M's Department of Civil and Environmental Engineering always notice people using their phones while driving. They are stopped at traffic lights, using their phones even after traffic lights turn green. How do these delays affect traffic safety?
The students used a private company to get access to a smartphone app that tracks driving behavior. They then got a hold of a dataset of that behavior so they could match it with recorded driving events on Texas roads. The researchers used machine learning to identify external factors that increased the frequency of distracted driving incidents.
Researchers found that wide medians, wide shoulders, more lanes, and higher speed limits all contributed to distracted crashes. A lack of traffic lights when merging onto an interstate was also a factor. Overall, these factors made drivers feel more safe and comfortable. This led them to use their phones at a higher rate.
What Can Be Done to Improve Safety?
Based on the findings of the study, there are several ways to reduce distracted driving crashes. For example, more police patrol and visible signs could be placed at the road with wider medians and shoulders. Also, roads with higher speed limits may need more attention from transportation agencies. Stricter law enforcement could help people improve their driving habits, which could make traffic conditions safer.
However, there could be some flaws. When data is app-based, it's often skewed toward a younger population, so it's not certain if the population is being properly represented by this research. It is a good first step in the right direction, though, and additional research and data could help researchers understand this data even more. A better understanding could lead to even possible solutions to help reduce deadly distracted driving accidents.
Contact a New Jersey Personal Injury Lawyer Today
Texting while driving and other forms of distracted driving are dangers in New Jersey. While there have been many efforts to crack down on these distractions, many drivers still disobey the law.
Distracted drivers can cause serious injuries and even death. The Morristown distracted driving accident lawyers at the Law Offices of Michael P. Burakoff can assess your case and help you receive compensation. To schedule a free consultation, fill out the online form by call (973) 455-1567.
Resource:
datanami.com/2021/06/01/heads-up-phone-data-shows-road-characteristics-linked-to-distracted-driving/