Crazy Acts Of Distracted Driving In New Jersey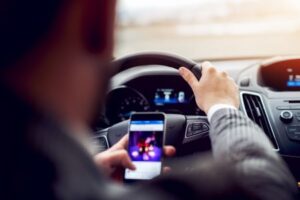 Distracted driving is a serious issue that has led to thousands of serious accidents, injuries, and deaths. People need to stay focused when behind the wheel, but they don't always do so.
When you think of distracted driving, you may think of someone using their cell phone while driving. Maybe they're texting, reading emails, using the internet, posting on social media, or calling someone.
While cell phone use is a major cause of distracted driving, it's not the only one. Some people brush their hair or put on makeup while behind the wheel. There are those who eat their breakfast or read the newspaper while driving.
New Jersey residents have witnessed even worse acts while driving. Here are a couple crazy experiences people have had while behind the wheel.
The Driver With the Ferret
A man was driving when he saw another driver with something wrapped around his hand. He got closer and realized the thing wrapped around the driver's hand was moving. He could see
a live ferret wrapped around the man's wrist and forearm. The driver was talking to it and even kissing it. The man was driving by a PetSmart, so maybe the driver just bought it from there. Perhaps he already owned it but brought it inside the store. In any case, the man was a little concerned that the driver was a little attached to his ferret.
Domestic Violence While Behind the Wheel
It can be scary to look into another vehicle and see someone hitting another person. That's what one woman saw while driving. A man was driving and at the same time hitting a woman in the passenger seat. The man was driving at full highway speed while hitting this victim.
The victim could be seen climbing over the seat to seek refuge. The man pulled the woman back in the front seat and beat her some more. As he hit her, the man could barely keep the car straight.
This happened a long time ago, before there were cell phones, so there was no way to call the police. However, the woman had a CB radio and asked truckers for help. Soon, several 18-wheelers caught up to them and tried boxing in the car. However, they came upon a freeway  exit and the vehicle with the man and victim inside were able to make a quick escape. It's unknown what happened.
Contact a New Jersey Personal Injury Lawyer Today
Drivers can get distracted in many ways. Multitasking may be good at work, but it has no place behind the wheel of a vehicle.
Distracted drivers can cause accidents. If you have been a victim, contact a Morristown distracted driving accident attorney from The Law Offices of Michael P. Burakoff. We offer personalized legal counsel to meet your needs. To schedule a free consultation, call (973) 455-1567 or fill out the online form.
Source:
nj1015.com/truly-insane-acts-of-distracted-driving-seen-by-nj-drivers/