The Danger New Jersey Patients Face from Overworked Doctors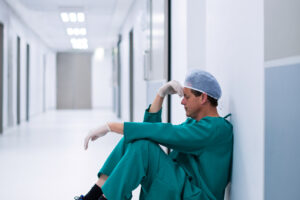 Being a doctor comes with tremendous responsibility and extremely high levels of stress.  The decisions made by doctors can literally mean life or death. If you couple this high-stress role with the long hours it can often provide, we should be surprised that there are not more examples or instances of medical negligence for doctors who regularly perform surgeries in the US. Studies have clearly shown that overworked and fatigued doctors are less effective and far more likely to make grave mistakes that can lead to medical malpractice, personal injuries and in some cases the wrongful death of patients.
The Law Offices of Michael P. Burakoff, understands the damage that a medical mistake can cause and we have extensive experience recovering full and fair compensation for our clients of all ages who are the victims of medical malpractice or negligence in towns across Morris County and Sussex County, including Parsippany, Newton, Netcong, Dover, Denville, East Hanover, and Morristown. Call either our Morristown office or our Newton office today at 973-455-1567to discuss your individual needs, concerns, and situation regarding any kind of personal injury or medical malpractice in a free and confidential consultation with our legal team.
Over-worked Doctors Pose Serious Risk to Morris and Sussex County Patients
There are several studies that have shown that a majority of American doctors are often overwhelmed by their workload to the point of burnout. This can increase the risk of medical errors, according to researchers from Stanford University.
The study which was titled "Physician Burnout, Well-being, and Work Unit Safety Grades in Relationship to Reported Medical Errors" was published in the Mayo Clinic on July 9.
The survey was conducted of 6,700 doctors. Among them, more than half (55 percent) reported symptoms of burnout. The study also found that burned-out doctors were twice as likely to make errors in medical judgment, errors in diagnosing illness as well as technical mistakes during procedures.
Radiologist, neurosurgeons, and emergency room doctors had the highest rate of error while the lowest numbers were reported by pediatrics, psychiatrists, and anesthesiologists.
According to estimates from previous studies, these medical errors can be responsible for a shocking 100,000 to 200,000 deaths each year.
Protecting Yourself From Over-worked Physicians Morristown Medical Malpractice Attorney
Though we rightly trust our doctors and healthcare professionals to look after our health and well-being they are after all human. As patients it is up to us to hold primary care doctors, surgeons, nurses, hospitals and other health care professionals to the standard of care that we expect and deserve.  The New Jersey Department of Health recommends that you should:
Be provided with an understandable explanation from your physician of your complete medical condition including recommended treatment, expected results, risks and reasonable alternatives.

Give informed written consent prior to the start of specified, non-emergency medical procedures or treatments only after your physician has clearly explained specific details about the recommended procedure or treatment, the risks, time to recover as well as reasonable medical alternatives.

Receive appropriate assessment and treatment for pain in a timely manner.
Contact A Netcong Medical Malpractice Attorney Today
Attorney Michael P. Burakoff and our law office have decades of experience at recovering full and fair compensation for our clients injured by medical malpactice across New Jersey, Morris County, and Sussex County, including communities such as East Hanover, Morristown, Parsippany, Denville, Dover, Netcong, Hopatcong, and Newton.
Our firm prides itself on working closely not just with our clients, but their families as well. We focus on keeping our clients and their families informed and involved throughout the legal process as we work at securing them the compensation they need and deserve.
Please speak with Michael Burakoff and our legal team today in a free and confidential consultation regarding any type of medical malpractice and your options for making a successful financial recovery.  Contact us online, or through either our Newton office or our Morristown office at 973-455-1567.