Rider's Head Stuck In Gate In NJ Motorcycle Accident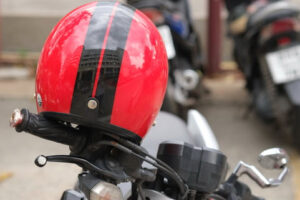 In an instant, a motorcyclist's life can change forever if they're not too careful. They could get seriously injured or killed in a crash. It's even possible for them to get their head caught in a gate.
This may sound a bit out of the ordinary, but it's something that actually happened to a New Jersey motorcycle rider. A man crashed a motorcycle on the morning of March 1 in Burlington City, on Wall Street. The crash caused him to get his head stuck in a gate at Wilbur Watts Intermediate School.
The 32-year-old man from Georgia was riding the motorcycle when he crashed and was ejected from the motorcycle. As a result, his head became wedged between the aluminum slats of the school's gate. The local fire department and EMS helped free the man's head.
The man was then taken to Cooper University Medical Center for medical treatment. It is believed that the man took the bike from a relative in Burlington Township without the person's knowledge. While the man has been charged with several violations, theft is not one of them at this time.
Effects of Motorcycle Crashes
Motorcycle crashes are complex events involving human, vehicle, and environmental factors, and how they all interact with each other. Motorcycle accidents are typically violent events, with most resulting in injury or death to the motorcyclist.
While riders should wear a helmet, a jacket, and other gear, the motorcycle itself offers no protection from the dangers of an accident. If a motorcycle stops suddenly or collides forcefully with a vehicle or other object, the rider could get ejected. Getting ejected from a motorcycle could result in death if the rider hits the ground, a vehicle, a tree, or other hard object.
Motorcycle accidents can affect any part of the body. However, they tend to involve certain parts of the body such as:
Lower body. Legs, knees, ankles, and feet can all be impacted by a crash, as the lower body is left vulnerable. Road rash and broken bones are common.
Upper body. Many riders use their arms to brace themselves in a fall. A hard landing can lead to broken bones in the arm as well as shoulder injuries and nerve damage.
Head injuries. Motorcyclists are prone to head injuries, even when they are wearing a helmet. A head injury can be severe. A skull fracture can lead to brain damage and cause physical and mental issues for the rest of a person's life. Seizures and paralysis are also common.
Contact a New Jersey Personal Injury Lawyer Today
Motorcycle accidents can lead to a variety of injuries. Due to the circumstances involved, a rider can get stuck in fences, gates, and other objects as a result of a crash.
Let a Morristown motorcycle accident attorney from The Law Offices of Michael P. Burakoff help you get the compensation you deserve for your motorcycle crash injuries. We can assess your case and determine liability. Schedule a free consultation by filling out the online form or calling (973) 455-1567.
nj1015.com/police-motorcyclist-gets-head-stuck-in-school-fence-in-burlington-nj-crash/