Motorcyclist Killed in Crash on New Jersey Turnpike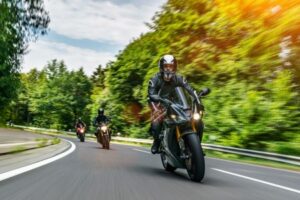 Car accidents often involve one or two vehicles, but can sometimes have three or more vehicles involved. When these massive pileups occur, someone is bound to be injured or killed.
This was recently the case in New Jersey. A five-vehicle pileup has killed a motorcycle rider. The fatal accident occurred on the evening of May 27 on the New Jersey Turnpike in East Brunswick.
A Mitsubishi Outlander was traveling south at around milepost 78.7 when the driver swerved to avoid debris in the roadway. They lost control and crashed. The SUV became partially disabled in the left lane and shoulder.
A Toyota then hit the Mitsubishi and it became partially disabled in the left lane and center lane. A BMW X3 then hit the Toyota. A BMW 330i then approached the crash and came to a stop in the left lane.
Behind the BMW 3301i was a Suzuki GSX-R600 motorcycle driven by a 29-year-old man from Hamilton. The motorcycle hit the left driver side of the BMW and the right side of the Mitsubishi. The motorcycle rider was ejected from the bike. He died at the accident scene. No other injuries were reported.
The left and center lanes of the southbound New Jersey Turnpike were closed for approximately three hours. Fortunately, there was minimal traffic congestion. The crash is still under investigation.
Liability in a Chain Reaction Crash
When three or more cars collide, it is known as a multi-car accident. These crashes are often caused by a series of events, or a chain reaction. In this case, it can be challenging to determine who is at fault. It's possible that multiple parties could be held responsible.
Chain-reaction crashes typically happen during traffic stops or on narrow roads, since vehicles are often so close to each other. Sometimes drivers are just distracted and cannot stop in time to avoid an accident.
In most cases, the driver who initiated the first impact is the person who is to blame. However, this can vary. Establishing fault will depend on evidence at the accident scene, eyewitness accounts, police reports, and any traffic violations.
Sometimes there are cases in which nobody is at fault. An example is when the accident occurred because of bad weather or a natural hazard on the road such as a patch of ice. Another example is when a driver causes the accident due to lack of consciousness or a medical condition. There may be cases in which the accident has to be reconstructed in order to determine liability.
Contact a New Jersey Personal Injury Lawyer Today
Chain-reaction crashes often involve multiple vehicles. Motorcycles may also be involved, and riders are most vulnerable in a crash of this nature.
A Morristown motorcycle accident attorney from The Law Offices of Michael P. Burakoff can help you. Contact us to discuss your family's needs and concerns in the aftermath of a motorcycle accident. For a free consultation, call (973) 455-1567 or fill out the online form.
Source:
mycentraljersey.com/story/news/local/2023/05/28/hamilton-motorcyclist-killed-new-jersey-turnpike-east-brunswick/70264941007/