Outdoor Workers Increased Risk of Heatstroke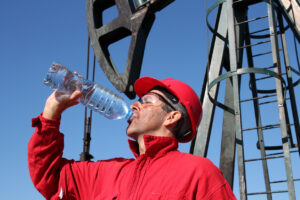 Heatstroke for Morris and Sussex County Workers Due to Lack of Safety Precaution
Workers' Compensation and personal injury claims cost employers the loss of countless dollars, man hours and productivity. Hot days put outdoor workers at elevated risk of heat related problems like extreme sunburns and especially heatstroke. Without proper precautions and safety measures, people can suffer a number of heat-related illnesses none of which should not be taken lightly. The Environmental Protection Agency states that, an average of 1,500 people die each year from exposure to excessive heat. Fatalities are not the only effect of excessive heat on workers, especially if they work outdoors.
The Law Offices of Michael P. Burakoff, has extensive experience recovering full and fair compensation for our clients who have been stricken with a heat-related illness at work due to lax safety precautions in towns across Morris County and Sussex County, including Newton, Netcong, Dover, Denville, Parsippany, East Hanover, and Morristown.  Please contact us online, or through either our Newton office or our Morristown office at 973-455-1567 for a free and confidential consultation.
Risks of Heat-Related Illness For New Jersey Workers
Though outdoor workers are more at risk in the summer months, many other workers are at risk all year. In reality any job site that involves high radiant heat sources, high air temperatures, high humidity levels, heavy physical labor and/or direct physical contact with hot objects is at increased chances for workers to develop heat stress-related illness.
However there are established safety standards to prevent illness and fatalities related to excessive heat exposure. Sadly many job supervisors do not take the proper safety precautions to protect their workers. These unsafe work environment dramatically increase the risk of heat illnesses such as heat stroke, dehydration, cramps and rashes and extreme sunburns.
Most heat-related illnesses caused by excessive exposure to heat and/or sun can be prevented if the appropriate precautions are taken, including proper hydration, use of sunscreen, rest and shade for workers when needed.
Avoiding Heat-Related Illness at Work Morristown Workers' Compensation Attorney
The New Jersey Department of Health warns that prolonged exposure to high temperatures can cause heat stroke and death.
To avoid health complications from excessive heat at work the DOH recommends the following:
Drink plenty of water or other non-alcoholic beverages.
Avoid the most physically demanding jobs during the hottest part of the day
Wear sunglasses that block both UVA and UVB rays.
Use sunscreen with SPF 15 or higher and both UVA and UVB protection.
Wear loose and light-colored clothing. Wear a hat when outdoors.
Talk to your health care provider about any medicine or drugs you are taking. Certain medications can increase the risk of heat-related illness.
It is important to remember that people who are suffering heatstroke can go from appearing normal to extremely ill in a matter of minutes.  Hot, dry skin, a high body temperature of 106 degrees or more, an absence of sweat, and a rapid and strong pulse are all early signs.  Victims can become delirious or unconscious. A person suffering from heatstroke requires immediate medical attention.
Talk to a Newton Personal Injury and Workers' Compensation Attorney Today
Attorney Michael P. Burakoff and our law offices have decades of experience recovering full and fair compensation for our clients injured due to lack employer precaution across New Jersey, Morris County, and Sussex County, including communities such as East Hanover, Morristown, Parsippany, Denville, Dover, Netcong, Hopatcong, and Newton.
Our firm works closely not just with our clients, but also their families. We understand completely how precarious a family's situation can become as medical expenses mount and the injured party remains unable to work. That's why we focus on keeping our clients and their families informed and involved throughout the legal process as we work to secure them the compensation they both need and deserve to make your life whole again.
Please speak with Michael Burakoff and our legal team today in a free and confidential consultation regarding any type work related heat-related illness and your options for making a successful financial recovery.  Please contact us online, or through either our Newton office or our Morristown office at 973-455-1567.