New Jersey Nursing Home Sued for Inadequate COVID-19 Precautions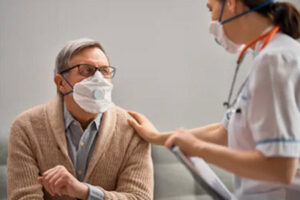 In the United States alone, the coronavirus has infected more than 6 million Americans and killed more than 191,000 people. Yet many people still do not take this deadly virus seriously. It is expected that nursing homes—whose patients have compromised immune systems—would take special precautions to protect their residents. Sadly, many facilities are not protecting their patients, causing major COVID-19 outbreaks. Many people have gotten infected and died.
A nursing home in Sussex County is facing a class-action lawsuit for not taking proper precautions, allowing residents to become infected with the coronavirus. Law enforcement officials found 17 dead bodies in a makeshift morgue at the facility.
A New Jersey man filed a lawsuit in Superior Court of Sussex County after his uncle died from COVID-19 on April 1 while a resident at Andover Subacute and Rehabilitation Center. In his lawsuit, the man claims that the facility violated state and federal laws. He also alleges that the nursing home acted in a deceptive manner by making false promises and misrepresentations. For example, Andover Subacute and Rehabilitation Center advertised itself as a high-quality facility even though the Centers for Medicare & Medicaid Services (CMS) gave it a one-star rating. This rating was based on the facility's numerous violations. The facility consists of two separate operations: Andover I and Andover II. Since 2015, Andover I has been cited for 24 regulatory violations, while Andover II has received 48 regulatory violations. These violations were due to a failure to meet safety and sanitary standards.
So far, at least 57 residents at the facility have died from coronavirus. A second lawsuit was filed in May, where the son of another resident cited widespread negligence and malpractice. The facilities have been hit with $220,000 in fines due to lapses in care during the COVID-19 outbreak.
The facilities and their owners claim that the residents would have died anyway, as they were already very ill before contracting coronavirus. They believe they would not have benefited from medical treatment anyway. The facility owners also attest that they have complied with Centers for Disease Control and Prevention (CDC) guidelines and they took all possible steps to prevent the disease from entering the facility. They claim that despite reaching out to various agencies for help, the coronavirus still infected dozens of residents. Also, the owners claim that Andover II has not had a resident with coronavirus since May 12.
Contact a New Jersey Personal Injury Lawyer Today
You expect that your loved one would receive proper care in a nursing home. Unfortunately, that is not always the case. Many residents have suffered serious illness and injuries in nursing homes.
If your loved one was neglected or abused or otherwise did not receive proper care while under the care of a nursing home, contact the Morristown personal injury attorneys at the Law Offices of Michael P. Burakoff. We can help you with your claim and ensure your family receives proper compensation. Fill out the online form or call (973) 455-1567 to schedule a consultation.
Resource:
nj.com/coronavirus/2020/09/nursing-home-where-17-bodies-found-in-make-shift-coronavirus-morgue-hit-with-another-lawsuit.html
https://www.burakofflaw.com/common-causes-of-construction-accidents/