11 Injured in Multi-Vehicle Accident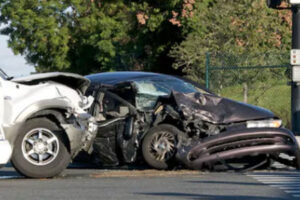 While many car accidents involve just one vehicle, many involve several or more vehicles. Multi-vehicle crashes are often more severe due to the various forces involved. A recent accident in New Jersey involved four vehicles and caused 11 people to be injured. Fortunately, there were no fatalities.
The crash happened on the afternoon of September 2 on northbound Route 1 at Randolph Avenue in Woodbridge. A Toyota Tundra was stopped at a red light when it was rear-ended by a Lexus ES330. This caused a chain-reaction accident. The Lexus then collided with a Chevrolet Trailblazer, while the Toyota hit a Subaru Outback.
There were five children and two adults inside the Lexus. The driver suffered a serious leg injury and was airlifted to University Hospital in Newark. The other occupants suffered moderate injuries and were taken to University Hospital via ambulance.
There were three men inside the Toyota. All three were injured in the crash. Two were taken to Robert Wood Johnson University Hospital, while the third one was taken to University Hospital.
A man driving the Chevrolet was injured and taken to Robert Wood Johnson University Hospital for treatment. The woman driving the Subaru was not injured in the crash. The roads were shut down for more than four hours as crews cleaned up and investigated.
Multi-Vehicle Accidents
Multi-vehicle accidents involve more than two vehicles, but can sometimes involve dozens or even more than 100 vehicles. These are often chain-reaction crashes caused by a driver who does not stop in time to avoid an accident. Road conditions are often at play, although distracted driving can also play a role.
In multi-vehicle crashes, vehicles are often hit at high speeds. This impact leads to serious injuries and even fatalities. Those who survive may be trapped inside their vehicles, making it difficult to escape and seek medical treatment in a timely manner.
These crashes can also cause fires. Spilled gasoline can cause fires that can quickly spread and make it difficult for rescue efforts. When a vehicle becomes engulfed in flames, occupants can die from burns and suffocation.
There is another thing to keep in mind about multi-vehicle crashes. In these accidents, it can be difficult to determine liability. It can be hard to understand how a crash happened when there are so many vehicles involved. That's why it's important for those involved in multi-vehicle crashes to seek legal help. They will want to protect their legal rights and ensure they receive the compensation they deserve for their damages.
Contact a New Jersey Personal Injury Lawyer Today
Car accidents can be serious in nature, especially when multiple vehicles are involved. These crashes can result in catastrophic injuries and even death.
If you or a loved one was involved in a car accident, seek legal help from the Morristown car accident lawyers at the Law Offices of Michael P. Burakoff. We can help you obtain compensation for all your damages. Schedule a consultation today. To get started, call (973) 455-1567 or fill out the online form.
Resource:
mycentraljersey.com/story/news/crime/jersey-mayhem/2020/09/02/route-1-crash-woodbridge-closes-lanes/5692772002/