Car Accidents Caused By Driving At Night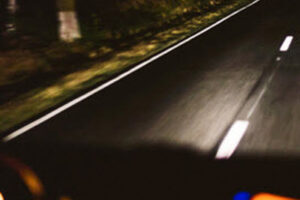 Driving can be dangerous any time of the day. Traffic, reckless drivers, speeders, semi trucks and hazards in the road can all cause serious car accidents. The time of day that you get behind the wheel can also be a factor. Driving requires a good deal of visibility, so it's only obvious that more accidents will occur at night.
Driving at night is more dangerous than driving during the day. While motorists do 25% of driving at night, they account for 50% of accidents. This has to do not only with reduced visibility but other factors such as fatigue, drunk driving and age. Here is a look at each of these factors.
Fatigue
Because nighttime is typically when people sleep, many drivers start to feel tired once it gets dark. Yet they continue to drive, putting themselves and others at risk. Four percent of drivers have even caused an accident while falling asleep. Lack of sleep, shift work and sleep disorders are often to blame. Fatigue is as dangerous as driving while intoxicated, so if you're feeling tired while driving, pull over and rest. Also, strive to make changes to your lifestyle. Get at least seven hours of sleep each night. Drive during the day, when you're not as tired.
Drunk Driving
Driving while intoxicated is illegal, but many people still do it. Impairment can be caused by not only alcohol and drugs, but also prescription medications. In fact, marijuana use is on the rise now that recreational use is legal in many states. Also, prescription drugs can cause drowsiness. It's important to understand their side effects before getting behind the wheel.
While drunk driving has declined over the years, it is still a problem, especially between the hours of midnight and 3 a.m. That's because many people like to visit bars and party after work. That's another reason why driving at night is so dangerous.
Age
Age can also be a factor when it comes to nighttime car crashes. The older you get, the harder it is to see at night. Driving in the dark is especially problematic for those over the age of 60. Cataracts and eye diseases become more common.
Because of this, older drivers should get annual eye exams. They should limit their driving to daytime hours. If they must drive at night, they should reduce speed and minimize distractions.
Contact a New Jersey Personal Injury Lawyer Today
While you may not be able to avoid driving at night, you'll want to do it safely. There are many dangers lurking on the roadways once the sun goes down, increasing your risk of being involved in a car accident.
If you have been injured in a crash at night or even during the day, make sure to seek legal help right away. Learn more by contacting the Morristown car accident attorneys at The Law Offices of Michael P. Burakoff. We can help you obtain the compensation you deserve for your injuries and other damages. To schedule a free consultation, fill out the online form or call (973) 455-1567.
Resource:
nsc.org/road-safety/safety-topics/night-driving#:~:text=While%20we%20do%20only%20one,2016%2C%20according%20to%20Injury%20Facts