Motorcyclist Killed After Colliding With Deer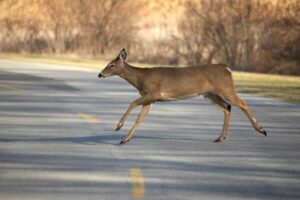 Many of us think of deer as cute and cuddly, but when these creatures are on the roadways, they can cause dangerous collisions. This was recently the case in New Jersey, when a man was involved in a motorcycle crash with a deer. The man died from his injuries.
The fatal accident occurred on the morning of November 1. A 58-year-old man was riding a motorcycle on eastbound Route 4, near Teaneck Road, when he hit a deer in the road. The impact caused the man to be ejected from his motorcycle.
The motorcycle was found on its side near a bus shelter. The rider, a River Vale man, died at the accident scene after hitting the four-point buck. The highway was closed for most of the morning, with traffic backed up to Paramus. The crash is under investigation.
What to Know About Deer Accidents
Accidents involving deer happen more often than you think. In fact, you have a 1 in 116 chance of colliding with a deer while on the roadway. More than 1 million accidents happen every year.
Most deer accidents happen in the fall, with November being the most dangerous month. Each year, approximately 10,000 people are injured and 200 people are killed in crashes involving deer. Motorcyclists face the highest risk; 70% of those killed in deer crashes are motorcyclists.
Avoiding Deer Accidents
Deer can range in weight from 100 to 300 pounds, with male deer being the biggest. They are heavy animals, so you'll want to avoid hitting them at all costs, no matter what type of vehicle you drive.
You can avoid hitting a deer by following these tips:
Look for deer crossing signs. If you see one, slow down and be alert.
If you do see a deer, slow down. Deer tend to roam in packs, so there's likely many more nearby.
Be aware of the timing. Deer are on the move between October and January, which is their mating season. Plus, they tend to be out and about more right after the sun sets. When driving in the dark, be on the lookout for deer, especially in rural areas.
Drive with your headlights on. A deer's eyes reflect a car's headlights, which should make them easier to see in the dark.
Use your horn. Honking your horn can be very effective in getting deer out of the road. This method is more effective than hood whistles
Contact a New Jersey Personal Injury Lawyer Today
Nobody expects to encounter deer on the road, especially a busy highway. Hitting such a huge animal can cause damage to a vehicle as well as serious injuries and death.
If you or a loved one has been involved in a motorcycle crash, contact the Morristown motorcycle accident attorneys at The Law Offices of Michael P. Burakoff. We can assess your case and hold the at-fault parties liable for their actions. Schedule a free consultation today by calling (973) 455-1567 or filling out the online form.
Resources:
pix11.com/news/local-news/new-jersey/motorcyclist-killed-crash-deer-route-4-teaneck/
pawsomeadvice.com/wild/deer-accidents-statistics/