Woman Killed In Truck Accident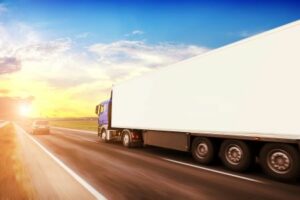 Semi trucks are common on New Jersey roadways. These huge vehicles often haul heavy loads weighing many tons. Because of this, a truck collision would most likely be fatal.
Sadly, this was the case for a New Jersey woman, when she was rear-ended by a semi truck on the afternoon of September 14. The fatal accident occurred in West Orange on Interstate 280 West in Essex County. Five vehicles were involved in the crash.
A Scion driven by a 51-year-old woman was traveling westbound on Interstate 280 when it was rear-ended by a semi truck near mile marker 12.6. This led to a chain reaction crash, with three other westbound vehicles involved. The Scion rear-ended a Toyota, which then rear-ended a Honda. The driver of the Scion was killed in the crash.
Another driver, a 36-year-old man from Scotch Plains, suffered moderate injuries. The crash is still under investigation.
Rear-End Accidents
Rear-end accidents—when a vehicle hits the back of a vehicle in front—are the most common type of auto crash. Distracted driving is the most common cause of this crash. When people are not focused on the act of driving and are too busy talking on their phone, texting, reading, or adjusting the radio, they don't see what is in front of them.
The good news is that when it comes to rear-end accidents, liability is pretty straightforward. Because motorists are supposed to leave plenty of space between themselves and other vehicles, a person who does the rear-ending is almost always at fault.
However, there are a couple exceptions. One is brake-checking, or slamming on the brakes for no valid reason. Some drivers do this as a form of insurance fraud. Another exception would be if the vehicle in front suddenly went in reverse, causing a crash. Not fixing a broken brake light would be another exception. This issue is problematic, as it's hard to see if someone is braking if their lights are not properly functioning.
Rear-end accidents tend to cause whiplash due to the impact involved. Whiplash is a soft tissue injury that affects the neck and causes a significant amount of pain. Many other injuries can result from rear-end crashes, including head injuries, spinal cord injuries, facial injuries, broken bones, lacerations, and bruises. As seen in this case, these crashes can also cause death if the impact is great.
Contact a New Jersey Personal Injury Lawyer Today
Semi truck accidents are very serious in nature due to the heavy loads involved. The impact of a collision between a semi truck and a passenger car or other small vehicle is often very great, causing catastrophic injuries or death.
You need an experienced lawyer on your side. The Morristown truck accident attorneys at the Law Offices of Michael P. Burakoff works closely with clients and provides them with attentive service to ensure their needs are met.  Schedule a free consultation to get started. Fill out the online form or call our office at (973) 455-1567.
Resource:
hudsonvalleypost.com/hudson-valley-woman-killed-in-5-vehicle-tractor-trailer-crash/