Possible Bite And Run Law For NJ Dog Owners?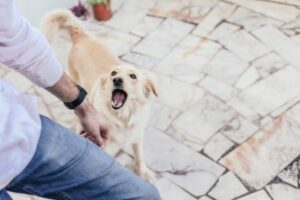 You may have heard of hit and run accidents, in which a person causes a car crash and then flees the scene without seeking medical help or exchanging personal information. In New Jersey, a lot of dog owners are acting similarly after attacks. Instead of staying at the dog bite scene, helping the victim, and cooperating with police, the dog owner flees with their dog.
This act, however, may soon be a crime in the Garden State. Assembly Minority Leader Jon Bramnick has proposed making bite and run incidents illegal. He recently introduced Measure A6036, which would allow police to charge a dog owner with a disorderly persons offense if they leave the scene of a dog attack before police arrive or fail to report the incident altogether.
This legislation was prompted by numerous incidents in New Jersey in which dog owners are allowing their dogs to attack people. Instead of helping the victims and reporting the incident, they simply keep on going. In fact, Bramnick heard about such a case in his own district. In one case, a dog on a leash ripped apart a woman's leg. The owner just kept on walking as if nothing happened.
Just like a hit and run accident, these dog owners flee the scene without identifying themselves or rendering medical aid. The new law hopes to end this behavior. If Measure A6036 is passed, a person who is convicted of a disorderly persons offense could be fined between $500 and $1,000 and be sentenced to six months in prison.
According to the bill, law enforcement officials would be required to impound the dog if there is reason to believe that the dog was not provoked at the time of the attack. If the bill doesn't pass the Assembly before January 11, 2022—the end of the current legislative session—Bramnick will be able to reintroduce it next year.
Dog owners may be upset about the possible law, but they shouldn't be. This law is not about dogs. Dogs can be great pets. In fact, they are often known as man's best friend. The law is about dog owners. Many owners don't know how to train their dogs. They cannot be obedient pets on their own. They need training and discipline, and without it, they will continue to attack innocent people. There also needs to be accountability, and this law, if passed, will provide that so dog bite victims can get compensation for their medical bills, lost wages, pain and suffering, and other damages.
Contact a New Jersey Personal Injury Lawyer Today
Dog ownership comes with a lot of responsibility and that means being responsible for your dog's actions. Running from a dog bite scene is immoral and may even be illegal soon.
Bitten by a dog? The Morristown dog bite injury lawyers at the Law Offices of Michael P. Burakoff can help you seek compensation for damages. Calling (973) 455-1567 or filling out the online form to schedule a free consultation.
Resource:
nj1015.com/nj-has-hit-and-run-law-for-drivers-so-why-not-bite-and-run-for-dog-owners/