When a Child is Injured in a School Bus Accident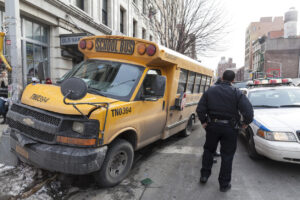 Dangers of Morris and Sussex County School Bus Accidents
There is always a level of fear and uncertainty shared by all parents each day as children are sent out into the world; the fear of a predator or kidnapper taking the child, the fear of cars flying by on a busy street, or the quite common fear shared by many parents of having their child riding a school bus when the bus gets into a motor vehicle accident. Although the school bus itself is a large, heavy, considerably stable vehicle for them to travel in; many of us have concerns about adequate seat belts, a functional and operational engine and break system. These fears stem from the realization that not all school buses or bus drivers are created equal and that accidents involving school buses that are filled with child on their way to or from school can result in a variety of personal injuries ranging from minor to catastrophic injury; and in tragic cases even loss of the life. A Mount Olive parent recently had to face this grim reality, when their child lost their life as a victim in a bus accident resulting from and due to the negligence of a bus driver.
Parents across New Jersey place their trust in school buses and bus drivers to transport their children to and from school, and even children who don't regularly ride the bus will still board buses a few times a year for class field trips. Though not as common as an everyday motor vehicle accident, or even an accident involving a commercial truck, a pedestrian or bicyclist on the roadway, when school bus accidents do occur send a chill down every parents' spine knowing that it could have been their child's bus that was involved.
If your child is involved in a school bus accident and has sustained injuries, it is imperative to contact an experienced attorney as soon as possible to protect you and your child both financially and medically.  The Law Offices of Michael P. Burakoff has extensive experience handling all types of motor vehicle accidents in Parsippany, Hopatcong, Mt. Olive, Andover, Newton, Morristown and across both Sussex and Morris Counties.  Speak with Michael Burakoff about how to receive fair and just compensation for the injuries and suffering of your child.  Contact us online, or call to schedule an appointment at either one of our convenient office locations: Morristown or Newton 973-455-1567.
Common to School Bus Accident Injuries Mt. Olive NJ
Any number of devastating injuries may result from a serious school bus accident, including but certainly not limited to traumatic brain injuries, spinal cord injuries, paralysis, bone fractures and/or soft tissue injuries. These devastating injuries are usually the result of what is considered a primary injury. Secondary injuries can occur when childrens' travel items or belongings such as loose sports gear or backpacks come into play. When we see these types of belongings, that students carry on board their buses every day, flying across the bus this can and will create even greater hazards inside a school bus during collisions. Many children sustain secondary injury from improperly stored items inside the bus. Even children who escape serious physical injury often suffer lasting psychological trauma resulting from the collision and seeing their peers seriously injured which isn't always easily diagnoses and often ignored.
Every child deserves the best possible chance of recovering fully from the physical and emotional trauma of a school bus accident. That often requires ensuring that their families obtain the fair and reasonable compensation necessary to pay for any medical treatment they need wit, physical therapy, and even emotional or psychological care without these necessities becoming a threat to their families' financial stability.
New Jersey Bus Safety Laws
New Jersey is one of only six states that obligate safety restraints on full-sized school buses. At present, there is no federal law mandating seat belts on school buses, and thus safety features are not present on the majority of buses nationwide.
In fact, as a result of the tragic Mt. Olive crash Governor Phil Murphy recently signed a bill making bus safety laws far more strict and designed to make all New Jersey children safer when traveling on school buses. The bill requires all new buses to have both lap and shoulder belts for all passengers. Additional measures proposed include more stringent requirements for school bus drivers and those that employ them.
Talk to a Denville School Bus Accident Attorney Today
Attorney Michael P. Burakoff has decades of experience recovering full and fair compensation for our clients whose children have been injured in school bus and other types of vehicle accidents in communities such as East Hanover, Morristown, Parsippany, Denville, Dover, Netcong, Hopatcong, and Newton and across Morris and Sussex County, NJ.
Our firm understands how precarious a family's situation can become as medical expenses mount as the result of caring for an injured child, whether the injuries are physical or psychological. That's why we focus on keeping our clients and their families informed and involved throughout the legal process as we work to secure them the compensation they both need and deserve to make your life whole again.
Please speak with Michael Burakoff and our legal team today in a free and confidential consultation regarding any type vehicle accident to learn about your options for making a successful financial recovery.  Please contact us online, or call to schedule an appointment at one of our conveniently located offices in Newton or Morristown, NJ.