2 Injured In Six Flags Great Adventure Accident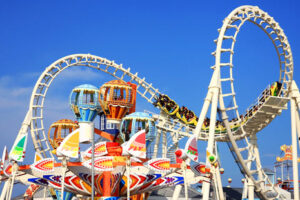 What was supposed to be a fun day at a New Jersey amusement park led to hospitalization for two people. A water ride accident at Six Flags Great Adventure in Jackson recently injured two riders.
The incident occurred on the evening of June 13 on the Saw Mill Log Flume ride. One of the cars flipped onto its side after the ride failed to complete its cycle. Two adults were injured and taken to a local hospital. One person suffered leg pain, while another suffered arm pain.
The ride is in a trough with flowing water. It was closed down after the incident for an investigation.
Accidents at Amusement Parks 
We go to parks to have fun, but should we be worried about dangerous rides? Probably not.
Each year, 30,000 people are injured in amusement park accidents, but most of these incidents are minor. Common injuries at amusement parks include back, neck, and head injuries, brain aneurysms and injuries, broken bones, lacerations, torn tendons, strokes, and drownings. 
Fatal accidents are very rare. In fact, your chances of being injured on an amusement park ride is 1 in 16 million. You're much more likely to get struck by lightning.
Common causes of amusement park accidents include the following:
Mechanical failures. These can be caused by negligence or a defect in the ride. Common failures include detached lap bars, rides going off rails, and broken components.
Improper operation. If the ride operator does not know how to properly control the ride, it can lead to accidents. This may include stopping the ride at the wrong times or not following safety precautions.
Passenger negligence. In some cases, the passenger is the one who is negligent. If they engage in unsafe activities, such as standing up mid-ride, hitting other passengers, or not properly wearing restraints, they can cause serious injuries to themselves and others.
In some cases, a ride is inherently dangerous. It may involve jerking movements or frequent spinning, which can lead to dizziness and brain injuries. In rare situations, a person can be injured or killed by a freak accident that has no root cause. 
You can do your part to stay safe at amusement parks. Always follow the height restrictions and other rules. Keep your hands and feet inside the ride at all times. Use seat belts and safety bars properly. Above all, trust your instincts. If you have a bad feeling about a ride, then refrain from riding it.
Contact a New Jersey Personal Injury Lawyer Today
Unfortunately, a day at an amusement park can lead to injury and even death due to a ride malfunction or other freak accident. It's a good idea to follow the rules and act in a safe manner at all times.
If you have been injured at an amusement park due to someone else's negligence, seek legal help from the Morristown personal injury attorneys at The Law Offices of Michael P. Burakoff. We can assist you in filing a lawsuit so you can obtain compensation for injuries. Schedule  a free consultation today. Call (973) 455-1567 or fill out the online form.
Resources:
nj1015.com/2-hospitalized-after-water-ride-accident-at-njs-six-flags-great-adventure/
farandwide.com/s/worst-amusement-park-accidents-5d2b791956534c7a