Construction Accidents Caused by Heights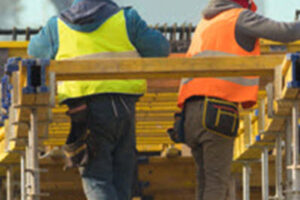 Most people don't enjoy going to work in the first place, so dying in the workplace would be absolutely terrible. Unfortunately, some industries — such as construction — are rife with accidents that lead to serious injuries and even death.
Many construction accidents are caused by heights. While the average home or building is roughly 9-10 feet tall, workers often have to erect buildings that are dozens of stories tall. This is especially true in urban and commercial areas, where office buildings may be 20 stories tall or more.
Working on tall buildings is no easy task. There may not be ladders tall enough, so scaffolds and other platforms may be used. The risk of a fall is very high. One wrong move could mean disaster.
Hundreds of fatal falls happen in the workplace every year. Most of these falls happen in the construction industry. Workers don't usually think about the risks of falling when at lower heights but most fatal falls happen from heights of 20 feet or lower.
Not all falls in the construction industry are fatal. Nonfatal falls are common at heights under 6 feet. The falls are not as serious when they occur on the same level, such as slips and trips. While these falls may not be fatal, they are very serious, with more than 40% of them causing employees to be away from work for 31 days or more.
Important of Fall Protection
Many construction workers fail to wear fall protection when working on high levels, but doing so saves lives. Research shows that more than half of workers involved in a fatal accident had no access to fall protection such as a personal fall arrest system. The study showed that 23% of construction workers involved in a fatal accident had access to a personal fall arrest system, but did not use it.
A lack of fall protection is a legal issue. According to the Occupational Safety and Health Administration (OSHA), the duty to have fall protection has been the most cited standard for 10 years in a row. It seems as though job sites either do not have fall protection or workers are not using it regularly or properly.
Employers have a duty to keep their workers safe. They need to do more to prevent fatal fall accidents. They can do their part by installing fall protection systems, using personal protective equipment (PPE), and educating and training workers about fall hazards and how to properly use fall protection equipment.
Contact a New Jersey Personal Injury Lawyer Today
Construction is a dangerous industry. Many jobs require work on tall buildings and a lot can happen when heights are involved.
If you have been injured at a construction site, make sure you understand your legal rights. A Morristown construction accident injury attorney from The Law Offices of Michael P. Burakoff can help you get full and fair compensation for all your damages. To schedule a free consultation, fill out the online form or call (973) 455-1567.
Source:
fallprotectionxs.com/falls-accidents-height-construction-us/