Woman Files Lawsuit After Getting Burned During Surgery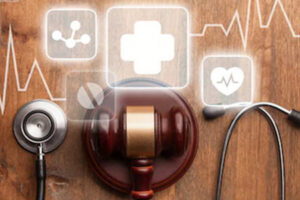 When a person is getting tumors removed from their body, they have a lot on their mind. What if these tumors are cancerous? What if I don't wake up from the surgery?
Very rarely are they thinking about the possibility of getting burned while under anesthesia, but this is what happened to a New Jersey woman. Her oxygen supply caught fire, leaving her with severe burns. She is now filing a medical malpractice lawsuit against the facility. The suit was filed in Superior Court of Essex County.
On March 15, 2021, the 79-year-old woman went to New York Bariatric Group's outpatient facility, located in Glen Ridge, to get several tumors removed from the back of her neck and her right shoulder. She was placed on a nasal oxygen tube as doctors, nurses, and assistants used an electric cauterizing tool to close the wounds left by the tumors. During this time, there was a spark from the tool, causing the oxygen to catch fire. There was a flash flame, causing the drapes around the patient to catch fire.
The fire caused the woman to suffer second- and third-degree burns to her neck and face. New York Bariatric Group, Glen Ridge SurgiCenter, the surgeon, and several nurses and assistants have been identified as defendants in the lawsuit. The amount of damages the victim is seeking is unknown.
Accidental Burns During Surgery
Electrical burns can happen due to errors during surgery. Electrical and thermal burns can occur.  An electrical burn can occur when the grounding pad for electrical surgical equipment is improperly placed, sending electricity into the patient. The intensity of the electrical current can cause the skin to become overheated to the point of being burned.  A thermal burn, or heat transfer burn, can occur when overheated surgical equipment makes contact with the patient's skin. Heat-producing surgical equipment may also slip during use, damaging the skin.
Burn injuries can be destructive, causing damage to not only skin and tissues, but also to bones, sweat glands, hair follicles and nerve endings. They can also lead to complications. They can lead to infections, which can be systemic in nature and lead to sepsis. They may require additional surgeries to repair destroyed tissue. This can result in scarring and disfigurement.
Most burn injuries suffered by patients during surgery are located on the torso or lower extremities. In this case, though, they were on the patient's upper body. This goes to show that burns can happen anywhere on the body. Regardless, they are preventable in most cases.
Contact a New Jersey Personal Injury Lawyer Today
While surgeries often come with complications, nobody expects to be burned while under the knife. This type of negligence is unacceptable.
A Morristown medical malpractice attorney from The Law Offices of Michael P. Burakoff can assist you in filing a claim against a doctor, nurse, clinic, or hospital. These claims are complex, but we can help. Call (973) 455-1567 or fill out the online form to schedule a free consultation.
Source:
nj.com/essex/2023/01/nj-woman-burned-during-surgery-when-oxygen-supply-caught-fire-lawsuit-says.html