Sussex County, NJ, Nursing Home Hit with a Class-Action Lawsuit Over COVID-19 Deaths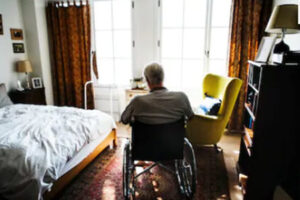 New Jersey's Senate is set to hold hearings regarding COVID-19 outbreaks in nursing homes, long-term care facilities, and prisons. According to New Jersey 101.5, the Senate president called the situation a "disaster" that was aggravated by an order that prevented these facilities from excluding residents with coronavirus.
As of May 18, 5,368 residents of long-term care facilities died of COVID-19 across New Jersey. Of those, nearly 4,300 were lab-confirmed deaths, accounting for over 40% of the state's total number of coronavirus fatalities.
Class-Action Lawsuit Against a Nursing Home in Sussex County, New Jersey
Meanwhile, people are filing lawsuits against nursing homes in New Jersey. Another report by New Jersey 101.5 focused on a class-action lawsuit against the Andover Subacute in Sussex County. According to the report, the nursing home became so overwhelmed by the number of coronavirus fatalities "that staff resorted to stacking bodies in a room."
Last month, police discovered 17 bodies piled inside the facility in a small morgue.
The Andover Subacute and Rehabilitation Center's adjoining facilities in the county have at least 254 confirmed cases of COVID-19 among their residents and 76 deaths, accounting for the largest number of deaths than any other facility in the state.
Meanwhile, the class-action lawsuit filed against the facility states that at least 83 "other patients were infected and died" from coronavirus. In a report released in May, the Centers for Medicare & Medicaid Services conducted an inspection at the Andover Subacute and Rehabilitation II and concluded that the nursing home failed to take proper infection control measures to stop the spread of the virus.
The report also said that the facility's failure to take appropriate steps "has caused, or was likely to cause, serious injury, harm impairment or death to residents." In addition, at least 24 National Guard members were sent to the facility to assist with non-medical tasks. Federal authorities have issued $220,000 in fines against the owner of the facilities.
Can You Still Sue Nursing Homes in New Jersey?
According to the report, two sons of an 85-year-old resident who died at the nursing home in April filed a lawsuit against the owner of the facility and his company, Alliance Healthcare. The plaintiffs claim that the wrongful death occurred due to the facility's gross negligence and medical malpractice.
The plaintiffs allege that the nursing home was aware of the imminent virus pandemic back in February but did not take the proper measures to protect its residents. The lawsuit claims that only registered nurses were provided with face masks, while others, including those who interacted with residents (housekeepers, nursing assistances, and others), did not have any personal protective equipment (PPE).
The lawsuit was filed nearly two weeks after New Jersey Gov. Phil Murphy signed an order that provided legal immunity to healthcare workers and facilities during the COVID-19 pandemic. However, the new law does not protect them from lawsuits based on "gross negligence."
Despite Gov. Murphy's order that makes healthcare facilities, including nursing homes, immune from civil lawsuits, you may still be able to sue a long-term care facility if you can prove gross negligence or extreme nursing home neglect.
Contact our Morristown personal injury attorneys at The Law Offices of Michael P. Burakoff to investigate your case and determine whether you can sue a long-term care facility for gross negligence. Call at 973-455-1567 for a consultation.
Resources:
nj1015.com/sons-sue-njs-deadliest-nursing-home-where-dad-died-of-covid-19/
nytimes.com/2020/04/15/nyregion/coronavirus-nj-andover-nursing-home-deaths.html
state.nj.us/health/healthfacilities/documents/LTC_Facilities_Outbreaks_List.pdfhttps:/www.state.nj.us/health/healthfacilities/documents/LTC_Facilities_Outbreaks_List.pdf
https://www.burakofflaw.com/can-you-sue-a-new-jersey-nursing-home-for-covid-19-infection-or-wrongful-death/