Recovering Damages After a Train Accident in New Jersey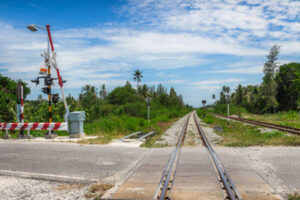 New Jersey is a transportation hub that has one of the nation's largest commuter transportation networks. Unfortunately, this also means that New Jersey is no stranger to train accidents. Being injured in a train or railroad accident is a scary experience. One such accident recently occurred in Paterson, Passaic County.
The train accident occurred west of the Paterson train station on Sunday night, according to the Daily Voice. The Main Line train had left Suffern and was due to arrive in Hoboken when it hit a man. Rescuers had to get the man out from under the train to take him to the hospital.
Types of Train Accidents in New Jersey
Train-person collisions tend to be the most devastating and more likely to result in catastrophic injuries and fatalities. However, there are many other types of accidents on the railroad that lead to serious injuries. Some of these types include:
Vehicle-train accident, which is the most common type of collisions on New Jersey's railroad. Typically, the motor vehicle's occupants sustain severe or fatal injuries upon impact.
Crossing and track accidents. A car is not the only thing a train can collide with at a crossing or on the tracks. A train can also hit debris, objects, wildlife, animals, people, or any other obstruction.
When a train runs off its tracks due to an operational error or the mechanical failure of tracks, a derailment is likely to occur.
Collisions between trains. Typically, the most disastrous train accidents involve collisions between two trains who crash head-on.
Mechanical failure, defects, or defective railroad design. Train accidents in New Jersey can also occur through no fault of the train operator, especially if the train has mechanical failure or defects or the railroad, bridge, crossing, or tunnel was poorly designed or constructed.
How to Recover Damages After a New Jersey Train Crash?
Regardless of how your railroad crash occurred, you might want to talk to a knowledgeable train accident attorney to investigate the causes of the collision and determine fault. Also, seeking medical attention and documenting your injury is vital not only for your wellbeing but also for strengthening your chance of successfully recovering damages.
Human error is responsible for a large percentage of train collisions in New Jersey. A train engineer may get distracted or lose situational awareness of where they are. Other human-related causes of train accidents include excessive speed (speeding) and failure to timely brake.
In any of these accidents, the injured party would typically be suing the company that owns and operates the train. In many cases, that would be the NJ Transit Line. However, given that the company is operated by the government, recovering damages may become too complicated.
Unlike in a car accident where you would be suing an individual driver, you would have to sue the government entity in the event of a train crash. There are a plethora of additional requirements and limitations when it comes to suing the government in New Jersey. One of these is that you only have 90 days to file a formal notice of claim on the governmental agency and employee involved as a pre-condition for pursuing a claim.
Consult with a knowledgeable Morristown train accident attorney to investigate what caused your crash. Contact The Law Offices of Michael Burakoff, P.A., to receive a consultation. Call at 973-455-1567.
Resource:
dailyvoice.com/new-jersey/morris/police-fire/man-struck-by-rockland-to-hoboken-train/788142/