Products Recalls Are Bad Business for Companies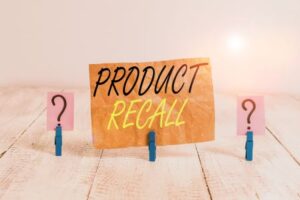 When a company creates a product, they have an obligation to ensure it is safe for consumer use. When a person uses the product as intended, they should not be harmed by it. So when an unsafe product is put on the market and causes injuries and fatalities to not just one, but hundreds or thousands of people, it can turn into a crisis situation.
Some companies are aware of safety issues with their products, but they may put them on the market anyway for one reason: money. The more units they can sell, the more money they can make. However, once it is made known that a company is selling defective products — and the company is denying the claims and refusing to recall the product — it creates negative feelings. The company will be sued and fined. They may be ordered to pay millions or even billions of dollars to victims. Their reputation may be ruined forever.
2022 has seen a lot of recalls, with more than a billion units recalled. 2023 looks to be following this same trend. Last year, food, drugs, automobiles, medical devices, and consumer products were all recalled. They include Peloton exercise bikes that caused fall and injury hazards, Jeep Cherokee SUVs with a high risk of catching fire, and Gerber baby formula that was contaminated.
When these companies try to defend themselves and avoid recalls, it only makes matters worse. It shows that they do not care about the people buying their products. When companies delay launching a recall, they are making a bad situation worse. They could be held liable for damages in lawsuits. They could also be responsible for injuries or deaths caused to their customers. These delays and lack of responsibility can lead to PR nightmares. Word of mouth spreads rapidly and a company can soon suffer from a ruined reputation as well as a decrease in sales.
When a company has been made aware of a defective product, they need to have a crisis management plan in place. This plan should include logistical details as well as a plan for pulling the product from stores and warehouses. There should also be public relations and reporting components.
When a company acts quickly when hearing of defective products, they show a commitment and priority for protecting consumers. Reacting quickly to the situation in an effective and efficient manner can go a long way toward protecting customers as well as a company's reputation.
Contact a New Jersey Personal Injury Lawyer Today
Unsafe products can cause injuries and fatalities to consumers. When companies do not deal with these issues promptly, it can affect their bottom line, costing millions of dollars in fines.
If you have been injured by a defective product, a Morristown product liability attorney from The Law Offices of Michael P. Burakoff can help you prove your claim. You will need a lot of evidence, so it won't be easy, but we have extensive experience with these claims. Schedule a free consultation today by calling (973) 455-1567 or filling out the online form.
Source:
forbes.com/sites/edwardsegal/2023/05/16/how-product-recalls-can-create-a-crisis-for-companies/?sh=545e18b76901