Preventing Slips and Falls in Restaurants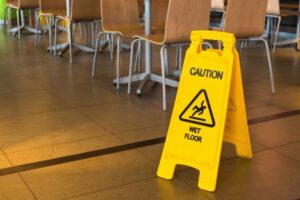 When you think of summertime, you may imagine pool parties, barbecues, camping trips, and days hanging out at the beach. You may not think about slipping and falling, but it can happen. The obvious place for this to happen in the summer is around pools or other water, but slips and falls can also happen in restaurants.
Slips and falls can be even more severe in the summer because we're off guard when they happen. We're not looking for ice, snow, or slippery conditions. We're too focused on having fun, and that's when things happen.
Slips and falls are very common in the workplace, especially in the restaurant industry due to oil and grease spills. This is why if you work in a restaurant or visit one regularly, you need to stay safe. Employees and managers need to be alert and aware in case there is a problem. They should always be looking for possible hazards both inside and outside the restaurant.
Be on the lookout for the following issues:
Flooring defects. Cracks, strings, and other flooring defects can be trip hazards. Look for places where the flooring is coming apart. Any defects should be replaced as soon as possible.
Poor lighting. A lack of lighting is an accident waiting to happen, especially in dark areas such as stairwells. Add lighting as needed and be sure to replace burnt out light bulbs immediately.
Wet, curled-up mats. Mats by doors should be dried regularly. If there are any curled edges, they should be straightened. Mats that cannot be straightened should be replaced.
Lack of signage. Wet floor signs should be put up if there is a spill and after a floor has been mopped. Signage should also be in place to warn customers of other issues, such as hazards on the floor and changes in elevation.
Keeping Employees Safe
 While it's important to keep customers safe, employee safety is also of the utmost importance. Employees should always wear shoes with heels and a full back. In fact, non-slip or slip-resistant footwear should be required. Employees should not wear pants with legs that touch the floor, as this can be a slip or trip hazard.
Install non-slip mats in front of beverage stations, cooking lines, and any other area where water or grease is likely to accumulate. Maintenance teams crews can do their part as well by using floor cleaning products that are compatible with the floor type and potential contaminants.
 Contact a New Jersey Personal Injury Lawyer Today
Slips and falls can happen any time of the year. They are not reserved for solely the wintertime.
Property owners can be held liable for slips and falls caused by negligence. Contact a Morristown premises liability attorney from The Law Offices of Michael P. Burakoff right away. We have 40 years of experience handling these cases and can help you understand your legal options. Call (973) 455-1567 or fill out the online form to schedule a free consultation.
Source:
modernrestaurantmanagement.com/dont-slip-up-preventing-summer-falls-at-restaurants/