Nearly 900 Sick From Salmonella In Onions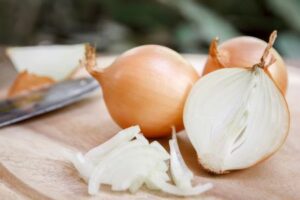 We expect that the food we buy at the supermarket is safe to eat, but unfortunately, that is not always the case. Food can become contaminated with bacteria if not prepared properly. This has recently become the case across the United States, with an outbreak of salmonella found in onions from Mexico.
At the moment, 892 people are ill and 183 are hospitalized after consuming yellow, white, and red onions. Nobody has died from the salmonella outbreak yet. While multiple companies have recalled their onions, the affected onions were supplied by Keeler Family Farms and ProSource Inc. They were imported from Chihuahua, Mexico, between July 1, 2021 and August 31, 2021. The victims became ill between May 31, 2021 and October 25, 2021, and range in age from 1 to 101 years old.
At the moment, New Jersey has just five victims, but many states have many more. For example, Texas has 207 victims. Oklahoma has 114 victims, while Virginia has 69, Maryland has 63, Missouri has 51, and Florida has 43. Many states have under 10 victims.
What's concerning is that the outbreak is still growing, even though the onions are close to reaching their shelf life. In fact, since October 29, there have been 84 new cases. If you have purchased recalled onions, be sure to throw them away. Do not attempt to eat them.
Symptoms of Salmonella
Salmonella is most likely to occur in raw food from animals, such as eggs, meat, and milk. However, it is possible for fruit and vegetables to become contaminated as well.
The salmonella bacteria can make a person very ill. Symptoms may include the following:
Diarrhea
Blood in the stool
Stomach cramps
Fever
Chills
Headache
Nausea
Symptoms tend to occur within hours of developing the infection, although symptoms may develop within six days of eating contaminated food. However, in some cases, people may not develop symptoms until weeks later and be sick for several weeks. So it can vary dramatically.
There are numerous strains of salmonella. Some are more severe than others and may cause infections in blood, urine, bones, or joints.
Children and the elderly are more likely to develop severe infections. So are people who take certain medications or have a compromised immune system.
Salmonella typically goes away on its own, although those with diarrhea should drink plenty of liquids. In severe cases, doctors may prescribe antibiotics. Hospitalization may also be required.
Contact a New Jersey Personal Injury Lawyer Today
The food we buy from the grocery store or restaurant is not always safe for consumption. It may be contaminated with bacteria, causing serious illness to those who eat it.
Have you gotten seriously ill from food? If so, the Morristown product liability lawyers at the Law Offices of Michael P. Burakoff can help you fight for compensation. Our aggressive lawyers will help hold the manufacturers liable for defects, contamination, and other issues. Fill out the online form or call (973) 455-1567 to schedule a free consultation.
Resource:
foodpoisoningbulletin.com/2021/now-892-sick-in-the-salmonella-onion-outbreak-183-hospitalized/