Dealing With Deer In New Jersey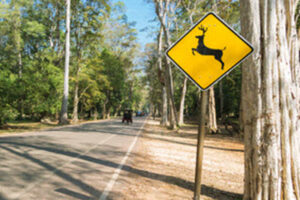 Deer may be considered cute animals, but they are a problem in many states, and New Jersey is no exception. Deer are plentiful all throughout the state, even on the roadways. This makes driving dangerous for motorists.
Deer can pop out onto the road in front of traffic, and they're so fast that there may not be any time to react. They can cause a car accident at any time.
How should you react when you come across deer while driving? Here are some things you should avoid doing if you want to avoid a collision.
Don't Go Faster
Your first reaction when you see a deer may be to speed up to avoid the deer, but if you collide with the deer, all this does is cause greater damage. It's better to slow down and be aware. If you do hit the deer, the impact won't be as great.
Don't Ignore the Deer
While you don't necessarily want to speed up when approaching the deer, you don't want to ignore it either. Don't be distracted by them. Stay focused because they can move quickly, at any moment.
Don't Use Your High Beams
You may think that putting on your high beam lights will scare the deer, but that doesn't always work. The deer won't see anything; in fact, it could temporarily blind them and cause them to run out in front of you, which is the opposite of what you want to happen. Instead, use your low beams or even turn off your lights, if it's safe to do so.
Don't Honk at Them
Laying on your horn likely won't do anything either. The deer may just stand there stunned. They will be so shocked by the loud sound of the horn that they won't know where to go. Instead, tap the horn lightly so it's not so loud.
Don't Chase the Deer
This is probably unlikely if you're on a freeway or other busy road, but if you're in the country on a rural road, you might just feel tempted to pull over and chase the deer. People have done this before, but it is not a good idea. It may seem like a fun prank, but it's not smart. Running after deer can be dangerous, especially if you're chasing bucks during mating season. Deer are more aggressive during this time of year, so the deer might just charge back at you. Even deer with their fawns may come after you, so just stay in your car and continue on to your destination.
Contact a New Jersey Personal Injury Lawyer Today
Deer and other animals may come onto the roadway at any time. As a motorist, you need to be careful and drive defensively.
Involved in an accident with a deer? While you can't sue the deer, there may be other legal remedies available. Seek legal help from the Morristown car accident attorneys at The Law Offices of Michael P. Burakoff. Schedule a free consultation by filling out the online form or calling (973) 455-1567.
Resource:
nj1015.com/5-things-you-shouldnt-do-when-deer-are-on-the-road/