Construction Worker Killed In Marlboro Accident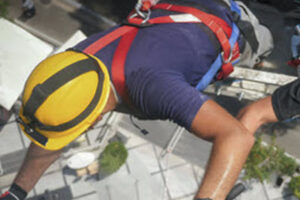 Construction workers are always working on new buildings and remodels. There is a lot of work to go around, but the jobs can be dangerous, with construction accidents common. One of the biggest issues is heights, particularly working on roofs. It can be dozens of feet to the ground if you fall, and it is likely you won't survive.
Unfortunately, this was the case for a New Jersey construction worker. The man was killed on November 17 after falling through the roof of an abandoned building.
The worker, a 33-year-old man from Paterson, was working on the psychiatric hospital on Newman Springs Road in Marlboro when he fell through the roof. State troopers responded to the incident and found the man's body inside the hospital. The incident has been deemed an accident. It is unknown what type of work the man was doing on the hospital, which was formerly known as Marlboro State Hospital and has been closed since 1998.
What to Know About Construction Accidents
Construction is a dangerous industry. On average, two people are killed in construction accidents on a daily basis in the United States.
The construction worker in this case died from a fall, which is one of the top causes of fatalities in the construction industry. Electrocution, getting struck by an object, and getting caught between objects are other common causes of fatalities. Common construction site injuries include head injuries, burns, eye injuries, broken bones, heat stroke, amputations, and spinal cord injuries.
Construction accidents are often caused by the following:
Poor training. Construction companies often cut corners when it comes to training employees. Workers may not know how to use personal protective equipment or properly operate tools and machinery.
Tools and machinery. Power tools and heavy equipment may malfunction, causing serious injury or death.
Workers are often on roofs and ladders and are likely to fall and suffer serious injuries if they are not using fall protection.
Falling debris. Tools and materials can fall onto a worker, causing head injuries.
Heavy lifting. Workers often have to haul around lumber, equipment, and other objects. These items can weigh 100 pounds or more, leading to overexertion and back and shoulder injuries.
Repetitive motion. Constantly using power tools or hammering nails can lead to hand, arm, or shoulder injuries caused by the repetitive motion.
Materials, electrical cords, wires, and other debris on a jobsite are trip hazards.
Trench collapse. Many workers have been suffocated by dirt after digging trenches that collapse and cover the worker with dirt.
Contact a New Jersey Personal Injury Lawyer Today
Sadly, construction accidents are all too common. When an accident does occur, it often results in serious injury or death.
The Morristown construction accident lawyers at the Law Offices of Michael P. Burakoff has extensive experience handling construction accident cases. Our aggressive personal injury lawyers can help you get full and fair compensation for damages. To schedule a free consultation, call (973) 455-1567 or fill out the online form.
Resource:
app.com/story/news/local/emergencies/2021/11/18/marlboro-psychiatric-hospital-construction-worker-dies/8664373002/