Medical Malpractice Among Orthopedic Surgeons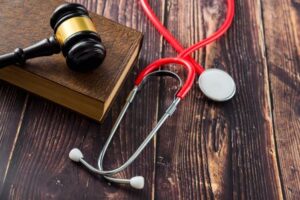 We rely on doctors to diagnose our medical conditions and help us heal from our injuries. There's a lot of pressure on them to make quick diagnoses, but sometimes they make mistakes.
Doctors are human, just like the rest of us. They are not perfect. They make mistakes in their job from time to time. But the difference is that their mistakes can cause a worsened condition or severe injuries. They can even be deadly.
Because of this, medical malpractice is a huge risk. Doctors have to offset this risk and protect themselves by buying insurance.
Orthopedic surgeons face a very high risk of medical malpractice. In fact, they are #3 on the list when it comes to the doctors with the most medical malpractice lawsuits, behind general surgeons and plastic surgeons. More than 80% of orthopedic surgeons have been involved in a lawsuit. This is based on a survey of 4,358 physicians across 29 specialties between May 21 and August 28, 2021.
One-third of respondents who said they were sued said their lawsuits were settled. Of the other two-thirds, only 2% were decided in favor of the patient by the judge or jury. This means that the odds are in the physician's favor, which doesn't bode well for injured patients.
Medical malpractice insurance is expensive. Nearly half of the physicians surveyed said they spend more than $10,000 a year on malpractice insurance premiums
Of those who were sued, 35% had spent more than 40 hours preparing for their defense. For 40% of doctors who responded to the survey, the lawsuit process took 1-2 years. For 27%, the process took less than a year.
What was the most common reason for these lawsuits? For these doctors, failure to diagnose or a delayed diagnosis was the top cause, at 31%. Complications from treatment or surgery accounted for 29% of the lawsuits. Another common reason was poor outcomes or disease progression, at 26%.
In any case, if you have been injured by a doctor, you need a strong case in order to win. Sometimes judges and juries favor the patient, but in most cases, the doctors prevail. That's likely because society in general still has a lot of respect for doctors, even though there are very bad ones who have made many serious and even fatal mistakes.
Contact a New Jersey Personal Injury Lawyer Today
Being a doctor is not an easy job. Many are sued for some sort of medical mistake, so they have to spend a lot of money on insurance.
Still, if you have been injured by a doctor's negligence, you should understand your legal rights. A Morristown medical malpractice attorney from The Law Offices of Michael P. Burakoff can provide you with top-notch legal assistance, as these cases are highly complex. To schedule a free consultation, call (973) 455-1567 or fill out the online form.
Source:
beckersspine.com/orthopedic/53106-medical-malpractice-lawsuits-5-stats-for-orthopedic-surgeons-to-know.html