Jule's Foods Recalled Due To Salmonella Outbreak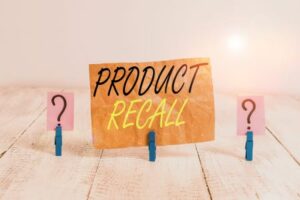 As the weather heats up, New Jersey residents will be outdoors more attending barbecues and picnics. It's important to be aware of safe food handling procedures in order to prevent product liability issues.
However, foods can sometimes be contaminated before they even leave the grocery store. They can sometimes have salmonella and other bacteria. This is the case for Jule's Foods products, which have been recalled by the Food and Drug Administration (FDA) due to a salmonella outbreak. Seven people have become sick from eating products that contain cashews. Of these, three people have been hospitalized with severe illness.
The FDA is working with the cashew supplier to ensure that the contaminated cashews are not used in any more products. The supplier has been informed about the recall and does not sell cashews to consumers.
The original outbreak was due to the Salmonella Duisburg strain. Now a new strain, Salmonella Urbana, has been identified, making two people sick. The recalled products have been identified as the following:
Jule's artichoke spinach dip
Jule's vegan ranch dressing
Jule's cashew brie (classic)
Jule's truffle cashew brie
Jule's black garlic cashew brie
The products were sold in grocery stores in New Jersey, New York, California, Florida, Colorado, Texas, Oregon, Maryland, Nevada, Connecticut, Pennsylvania, Tennessee, Louisiana, Ohio, Rhode Island, and Minnesota. The seven victims include four in California, two in  Tennessee, and one in Florida. They range in age from 23 to 72 years old. They became ill between January 31, 2021 and April 8, 2021. However, it is believed that the number of victims is much higher than reported, since many people do not seek medical care and do not get properly diagnosed.
The company has suspended production of these foods for the time being, as the contamination is under investigation. Consumers who have purchased these products should not eat them. They are urged to throw them away or return them to the store for a full refund.
Stores and businesses should not sell or serve these recalled products. They should also wash any items and surfaces that came into contact with the recalled food.
Symptoms of Salmonella
A person may start to experience symptoms of salmonella infection in as little as six hours after exposure, although it may take up to three weeks in some cases. Vomiting, nausea, fever, and stomach pain and cramps are the most common symptoms. A person may also experience bloody diarrhea, chills, fatigue, and dehydration. Salmonella infection often goes away on its own after several days, although hospitalization may be required in severe cases.
Contact a New Jersey Personal Injury Lawyer Today 
Food poisoning is not a minor issue. It can cause a person to become seriously ill. In some cases, people die.
If you or a loved one became ill due to contaminated food, seek legal help right away. The Morristown product liability attorneys at The Law Offices of Michael P. Burakoff can assess your case and help you hold the manufacturer liable for your illness. Schedule a free consultation by filling out the online form or calling (973) 455-1567.
Resource:
foodpoisoningbulletin.com/2021/its-the-cashews-seven-sick-in-jules-cashew-brie-salmonella-outbreak/