Gerber Accused Of Selling Lead-Tainted Baby Food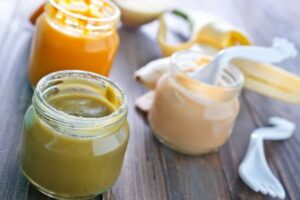 Parents want to give their children the best things in life, whether it's food, education, electronics, healthcare, or any other essential item. So when parents find out that they're feeding their children tainted food, they're bound to get upset.
A product liability lawsuit has been filed against Gerber, the popular baby food manufacturer, after the company allegedly sold baby food tainted with lead. The lawsuit has been filed in California, which had anti-lead standards, but the tainted food can be found all over the country.
And it's not just a small trace of lead. It is alleged that just one serving of certain baby food products by Gerber has three times the amount of lead that an adult can consume safely in one day. The amount of lead found in these products is extremely dangerous considering that the average consumer of these foods is around 6-8 months old.
It's not believed that the lead issue is a more recent occurrence. While Gerber has been making baby food since 1927, it's possible that the lead could have surfaced in the food decades ago. There are two affected baby foods by Gerber:
Sweet potato, carrot and pea
Sweet potato, apple and cinnamon
The Food and Drug Administration (FDA) currently does not regulate toxic metals in baby foods  and there is no federal standard for lead in baby food, but Congress is hoping to create and pass legislation that will change that. It has been discovered that Gerber is not the only company to sell toxic baby food. According to a recent congressional report, most brands of baby food contain high levels of lead, arsenic, cadmium, and other toxic metals. At least 80 lawsuits have been filed against Gerber and the other baby food companies listed in the report.
But that's not enough. Congress needs to take action and keep America's children safe. They need to regulate baby food companies and ensure that the products they are putting on the market are safe for consumption. This means ensuring they are lead-free.
The lawsuit aims to get Gerber to change its food in California with the hope that the company will then change it nationwide. In the meantime, it is recommended that parents avoid feeding their children baby food that contains sweet potatoes in an effort to avoid potential exposure to lead.
Contact a New Jersey Personal Injury Lawyer Today
It can be frustrating when the food you feed your child is poisonous. If your child has suffered illness or injuries from tainted food, make sure you understand your legal rights.
Product liability cases can be complex, since suing the manufacturer can be a difficult process on your own. Get the right legal help on your side. The Morristown product liability attorneys at the Law Offices of Michael P. Burakoff believes in attentive and effective legal service. Schedule a free consultation to learn about your options. Fill out the online form or call (973) 455-1567.
Resource:
fox32chicago.com/news/lawsuit-filed-against-gerber-for-allegedly-selling-baby-food-tainted-with-lead